Posted on
Mon, Feb 4, 2013 : 3:16 p.m.
Board to select name for new Ypsilanti-Willow Run district Monday night
By Danielle Arndt
The unified Board of Education for Ypsilanti and Willow Run is expected to vote Monday night on what it will call the new school district.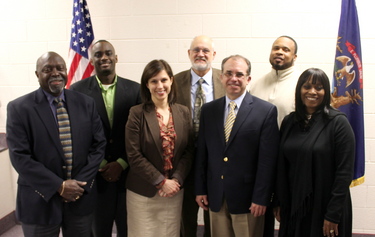 Willow Run Community Schools
and
Ypsilanti Public Schools
will merge effective July 1. The merger was
approved
in November's general election, with more than 60 percent of voters in both districts in favor of consolidation.
After fielding more than 280 name suggestions from county residents of all ages, the proposed names for the new district were divided into five categories: community, geography, names of people, future expectations, local history, points of pride and miscellaneous.
Geography won out in the proposals. The three finalists the board will choose from are: Ypsilanti Community Schools, Ypsilanti United School District or Eastern Washtenaw Community Schools.
A previous AnnArbor.com poll, although not a scientific measure, showed Ypsilanti Community Schools was a favorite among residents.
Monday's board meeting starts at 6:30 p.m. at Willow Run High School, 235 Spencer Lane, in Ypsilanti. Each board will conduct individual business first and a joint meeting for the new district will take place afterward, at approximately 8 p.m.
A news conference related to grant money for the new district also will take place at 6 p.m. Monday at Willow Run High School.
Danielle Arndt covers K-12 education for AnnArbor.com. Follow her on Twitter @DanielleArndt or email her at daniellearndt@annarbor.com.