Posted on
Tue, Dec 27, 2011 : 5:54 a.m.
'Rogue' bones? Human remains discovered at EMU this summer date back to the 1800s
By Kellie Woodhouse
John Donegan never expected to find a 'rogue body' buried six feet beneath an Eastern Michigan University road this summer.
But then again, who does?
EMU's chief facilities officer and his crew discovered human bones during a routine construction dig on June 28. A recent report from Michigan State University anthropologists concludes that the bones are the remains of a woman buried more than 100 years ago.
"We find stuff all the time when we dig; there's a lot of animal bones," Donegan said. "But we didn't expect to find human remains.
"I'll be honest with you, that's never happened and we've moved thousands and thousands of pounds of dirt here."
Donegan, an EMU maintenance crew and a few contractors had closed Ann Street and dug an 8-foot trench in an effort to repair leaking steam pipes when they unexpectedly cut into the bones.
At first, they assumed the bones were animal remains. A further look, however, dispelled that notion.
"When we dug the trench we basically cut through the human remains and took the leg bones off," Donegan said. "So, all we really saw were the leg bones, and then when we looked at the side of the trench... and we saw the rib cage in the dirt.
"When we saw that, we realized we really ought to have somebody take a look at this."
EMU police researched the area and realized the crews were digging in a spot that was a Catholic cemetery in the 1800s.
The cemetery was relocated prior to 1900, police discovered.
But the remains of at least one "rogue body" were evidently not transferred, Donegan said.
"Apparently they missed one," he offered.
Anthropologists say the remains belonged to a woman of European descent who was between 40 and 60 years old when she died.
Along with the bones, decaying coffin wood and other burial artifacts, such as copper crosses, were unearthed.
Coffin screws indicate that the woman was buried around 1882 , according to the anthropologists' Nov. 30 report.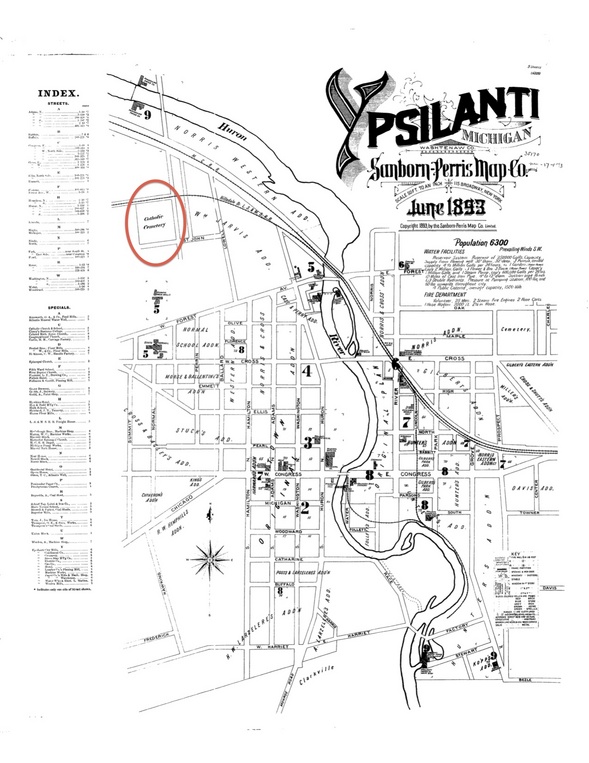 Kellie Woodhouse covers higher education for AnnArbor.com. Reach her at kelliewoodhouse@annarbor.com or 734-623-4602 and follow her on twitter.