Posted on
Wed, Sep 4, 2013 : 2:45 p.m.
Boy's quick thinking saves grandmother's life and earns respect of Ypsilanti firefighters
By Kyle Feldscher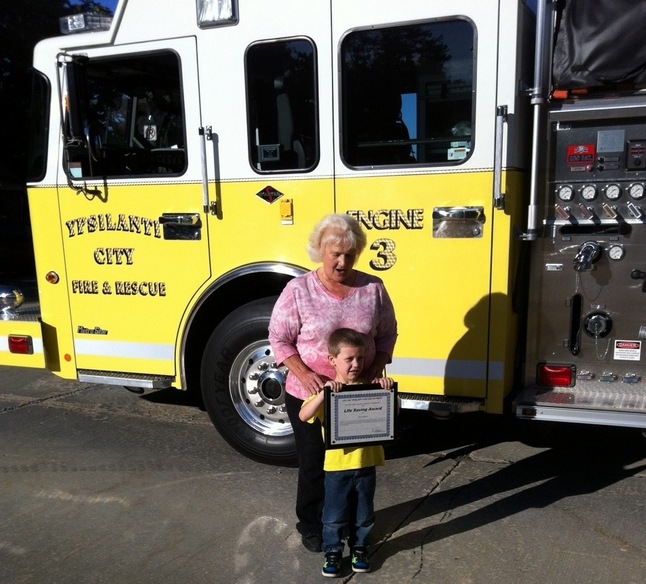 Courtesy of YFD
For the last year or so, 4-year-old
Evan Martin
has been obsessed with learning his father's cellphone number.
"Since he turned 3, he wanted to know my phone number," Toby Martin said. "He didn't know why, he just really wanted to know my number."
On Aug. 12, that obsession saved his grandmother's life, and his actions that morning earned the respect of Ypsilanti firefighters.
Toby Martin, who works in construction, dropped Evan off at his mother's home on Maus Avenue that morning on his way to work. Gayla Martin has chronic obstructive pulmonary disease and was having trouble breathing that morning. She assured her son she was just fine and Toby went off to work.
But she wasn't fine. The Martins learned later that she had suffered a heart attack while in bed the previous night, and water was filling her lungs. But, the sharp pains in her chest had gone away and her grandson needed to be looked after, so she didn't seek medical attention.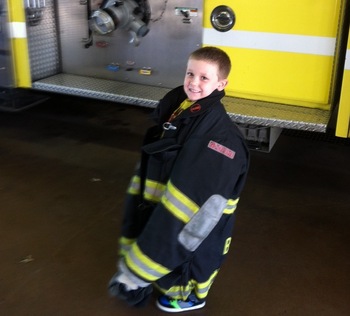 Courtesy of YFD
Toby went off to work, but got a strange call from his mother's number a few hours later. He answered the call on the third ring, but whoever was on the other line hung up.
"It hung up and I thought, 'Something's going on,'" he said.
He called her back and she picked up on the last ring. He could tell by the sound of her voice something was wrong — "I could tell she was hurting, she could barely talk," he said.
Toby rushed back to his mother's home and found her breathing with the help of her oxygen mask, but struggling. He called 911 and paramedics rushed her to the hospital.
As it turned out, it was Evan's quick thinking that saved Gayla's life.
"She said, 'He took my phone and ran upstairs and called you,'" Toby said. "He was scared because my mom was having trouble breathing."
When Gayla got to the hospital, doctors found 12 pounds of fluid on her lungs. It's Toby's firm belief that he would have returned to his mother's home and found her dead if Evan had never called.
"If he would have never called me, my mom probably would have died," he said.
Because of Evan's quick thinking, Gayla didn't die. In fact, she's recovering, following a strict low-sodium diet and losing water weight every day, Toby said. She's taking medication to help her heart and Toby said, all things considered, she's "doing pretty good."
After saving his grandmother's life, Evan gained a whole bunch of brothers in the Ypsilanti Fire Department.
The incident caught the attention of fire department officials and, on Tuesday, the Ypsilanti Fire Department gave Evan a lifesaver award. Lt. Richard Barnabo said the firefighters were impressed by Evan's awareness to call his father when something didn't seem right.
"It doesn't happen often. For him to have that awareness and recognize that … he basically saved his grandmother's life," Barnabo said.
Originally, firefighters were going to take the trucks to Evan's house to present him with the award but Toby said there was a slight change of plans Tuesday morning.
"The one thing he wanted to know was where do they come from? Where do the fire trucks come from?" he said.
So, after a quick phone call, Evan got a tour of the fire department and met with firefighters. He even got a plaque in recognition of his actions and some patches.
Evan originally wasn't all that impressed with the patch — until the firefighters showed him that each of them wears the same patch on the shoulders of their jackets. When he got home, Evan made his mother put the patch on the shoulder of his new fall jacket, Toby said.
It was like the firefighters were telling Evan "you're part of the brotherhood now," Toby said.
Barnabo said the firefighters loved seeing the big smile on Evan's face during his time at the station.
"The neatest part for us was watching him enjoy it," he said.
Toby encouraged parents to spend time with their kids and make sure they know their important information —parents' phone numbers, addresses, zip codes, etc.
"That's the key," he said.
Kyle Feldscher covers cops and courts for AnnArbor.com. He can be reached at kylefeldscher@annarbor.com or you can follow him on Twitter.