Posted on
Mon, May 6, 2013 : 12:14 p.m.
Brother of missing Ypsilanti woman: Surveillance camera caught abduction on tape
By Katrease Stafford
The brother of a missing 25-year-old Ypsilanti woman said a surveillance camera at her apartment building captured footage of two men abducting her Monday morning.
Facebook photo
Farrah Nicole Cook was reported missing after she didn't show up for work Monday morning.
Police said officers were dispatched at 5:45 a.m. Monday to a home in the 500 block of South Hamilton Street at the Hamilton Crossing Apartments after receiving a report that a man had forced a woman into a black or very dark blue Pontiac Bonneville. Police originally said the vehicle was a Pontiac Grand Prix.
Dominique Graham, Cook's brother, said the camera footage shows a man he believes to be Cook's ex-boyfriend, 27-year-old Jeremy Abston, and another suspect watching Cook get ready for work through the window of her apartment.
"They were looking through the windows and were watching her get ready," Graham said.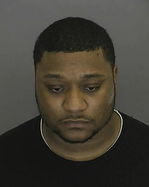 Courtesy of YPD
Graham said his sister came out of the building and that's when she was attacked.
"You can see her unlocking her car and that's when the first suspect grabbed her and she was screaming and yelling," Graham said.
The other man was pulling on her and she was screaming for help, Graham said. By the time neighbors who heard the commotion came outside, the men were driving away, he said.
Graham said about 10 people witnessed the abduction.
Graham said Cook has 4-year-old twin girls with Abston and a 3-year-old boy.
Investigators have spoken with Cook's family and co-workers and were told she did not show up for work and was not at her home. Police are now actively searching for Abston in order to question him about her disappearance.
Police are also seeking a male accomplice, who they believe assisted in abducting Cook, and a female accomplice who is being sought for aiding and abetting. Abston and Cook broke up in the last few weeks, according to police.
Abston's last known residence is in Ann Arbor and police say he's considered possibly armed and dangerous. Police believe the vehicle used in the abduction is a dark blue or black Pontiac Bonneville with a rear passenger wheel missing a hubcap and a small amount of rust.
Abston is described as a black man, 5-feet-11 inches tall and weighing between 240 and 250 pounds.
Anyone with information on this case is encouraged to contact Detective Sgt. Thomas Eberts at 734-482-9878 or Crime Stoppers at 1-800-SPEAK UP (773-2587).
Katrease Stafford covers Ypsilanti for AnnArbor.com.Reach her at katreasestafford@annarbor.com or 734-623-2548 and follow her on twitter.