Posted on
Wed, Feb 27, 2013 : 5:58 a.m.
Brothers to serve at least 10 years for 'egregious' abduction and shooting
By Kyle Feldscher
Before beginning his prison sentence Tuesday, Allan Tomlinson said his family mattered more to him after he got out of prison than anything else in the world.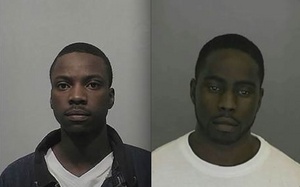 Courtesy of the Washtenaw County Sheriff's Office
Tomlinson said his younger brother, Clinton Desir, took advantage of that and involved him in a plan to abduct and shoot Julien Butler, who Desir believed raped his child's mother.
Washtenaw County Trial Court Judge Donald Shelton sentenced Tomlinson and Desir to between 10 and 15 years in prison for charges of unlawful imprisonment and conspiracy to commit unlawful imprisonment Tuesday. Tomlinson will serve an additional two years for being a felon in possession of a firearm.
Tomlinson told Shelton he was doing everything he needed to do while he was on parole after being released from prison. Tomlinson served six years for an armed robbery conviction. He said his family meant more to him than anything else, and Desir preyed on that feeling to get him to help get vigilante justice on Butler.
"My co-defendant, my youngest brother, knew what type of person I am when it comes to family and he took advantage of that," Tomlinson said.
Tomlinson's statement brought family members to tears. However, Desir was not in the courtroom at the time of his statement and did not speak about his older brother during his statement.
On Aug. 10, Tomlinson and Desir abducted Butler at gunpoint outside an Ypsilanti party store. According to Butler's testimony, Tomlinson held a gun to him while driving to a rural portion of Ford Road in Superior Township.
Once there, Butler was shot multiple times and left to die on the side of the road by the two men. He likely would have died there, if it were not for several people who stopped to help him and kept him alive until medical personnel arrived.
Butler suffered 13 wounds, causing severe injuries to his hip, thigh, buttocks and testicles. One of his hips was replaced and prosthetic bone was put in his thigh to replace his femur.
Both Tomlinson and Desir apologized for taking the law into their own hands. The mother of Desir's child reportedly told Desir that Butler had raped her — a charge he denied — and the two brothers decided to take matters into their own hands. The incident shocked Shelton.
"This is the most egregious great bodily harm case I've ever sat on," he said.
For months, the official story was Tomlinson fired the shots that injured Butler. However, Tomlinson's lawyer, Erika Julien, said Tuesday that wasn't the case.
Once arriving at the location where Butler was shot, Tomlinson handed the gun to Desir and Desir fired the shots into a helpless Butler, Julien said.
Shelton interrupted her and told her that, through all the testimony in preliminary exams and a trial, this version of events was never presented.
Desir apologized for the act and said he regretted taking matters into his own hands.
"I felt like I did go about the whole situation the wrong way," he said. "I understand I have to face the consequences for my actions."
For Butler's family, it really doesn't matter who pulled the trigger. Eric Graham, Butler's brother, called the incident "one of the most idiotic" incidents he'd ever experienced.
He said Tomlinson did not learn from his first stint in prison and needed to be remanded for a long time.
"Our family's been through a lot, their family's been through a lot," he said. "These kind of acts, the people who commit them cannot be on the street."
Tomlinson faces a long stint in prison. Because he was on parole at the time of the incident, he now faces the maximum sentence for armed robbery and conspiracy to commit armed robbery. The 12 to 17 years he faces for the Butler case would be served consecutively to that sentence.
On Jan. 30, Tomlinson was found guilty of two counts of assault with intent to commit great bodily harm, reduced from two counts of assault with intent to murder, two counts of assault with a dangerous weapon, two counts of unlawful imprisonment, carrying a concealed weapon and being a felon in possession of a firearm. In a bench trial Shelton found him guilty on two additional counts of possession of a firearm during the commission of a felony.
Tomlinson now has 19 convictions — 12 felonies and seven misdemeanors, according to Shelton.
Desir pleaded no contest on Jan. 28 to assault with intent to murder and guilty to assault with a dangerous weapon, unlawful imprisonment, conspiracy to commit unlawful imprisonment and carrying a concealed weapon, records show.
In exchange, charges of assault with intent to commit great bodily harm, two charges of assault with a dangerous weapon, conspiracy to commit assault with a dangerous weapon, assault with intent to murder, assault with intent to commit bodily harm and possession of a firearm during the commission of a felony were all dropped, according to court records.
These were Desir's first convictions as an adult. He was given credit for serving 196 days in jail.
Both men were sentenced for their other convictions as well, however, all those sentences run concurrent to the unlawful imprisonment charge.
Shelton elected to sentence both Desir and Tomlinson above the guidelines for unlawful imprisonment due to the nature of the crime. Desir originally agreed to a sentencing agreement that would have put him away for 12 to 20 years, but Shelton refused to honor that agreement because he did not want to sentence Desir longer than Tomlinson.
Washtenaw County Assistant Prosecutor Blaine Longsworth decided not to withdraw the plea agreement, despite Shelton choosing to sentence Desir to a shorter time in prison. He had asked Shelton to sentence Tomlinson to 10 to 15 years on that charge and believed it was appropriate for Desir.
Longsworth said Tomlinson's criminal history started in 1999 and he believed it would continue if he leaves prison.
Tomlinson is "a dangerous and unique threat to the public," Longsworth said.
Kyle Feldscher covers cops and courts for AnnArbor.com. He can be reached at kylefeldscher@annarbor.com or you can follow him on Twitter.