Posted on
Sat, Oct 29, 2011 : 11:26 a.m.
Community Records opens music center in Ypsilanti
By Lisa Carolin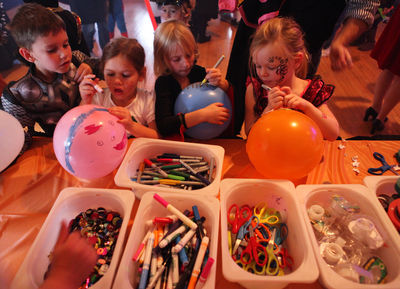 photo by Jeff Sainlar | AnnArbor.com
For the last four years, students from Ann Arbor, Ypsilanti and throughout Southeast Michigan have benefited from the instruction of Community Records' outreach program. As of today that program has a home base at 120 North Huron Street in Ypsilanti. The grand opening, which runs from 1-4 p.m., is free, put on by
Jenn Monk-Reising
and featuring an interactive electro/acoustic jam station and short class demos by instructors.
The space offers practice rooms and a stage and auditorium where workshops, lessons, and community events can now be hosted, and a place where local musicians can share their craft.
"What sets us apart is that our classes, concerts and projects are designed to bring diverse populations together through music," said founder and owner Jesse Morgan. "The idea is that personal relationships will last beyond the musical projects that bring us together."
"This is the culmination of a lot of the dreams we had when we formed the company," said Akilia Jackson, who has been involved in Community Records as an instructor and board member since it's inception. "We want youth to recognize that art is not something that only experts can do, and that they can use art as a tool to empower themselves to act on the issues around them."
Classes will begin at the new Community Records Music Center the second week of November and include Songwriting 101, A History of Hip Hop Production, Your Band As A Business, Weekly Drum Circle and Music Theory: Scales/Chords by Formula. Private lessons for guitar, piano, drums, percussion, voice and more are also offered.
Instructor Tony Morgan specializes in teaching songwriting.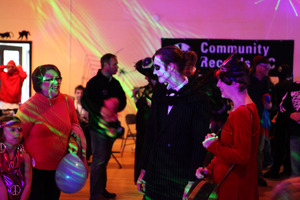 Jeff Sainlar | AnnArbor.com
"I am a wordsmith," he said. "I've helped different age groups from elementary through high school write community-oriented songs. It's important to young people to want to be involved in the things that happen in this community, and we use music as a device to connect people."
He cites an example of a recent songwriting workshop that he ran at Willow Run Middle School where they talked about healthy, sustainable food and wrote a song about it.
"The students offered the song to Growing Hope as an anthem," said Morgan.
Former student Dakota Leming got direction for his future from one of Community Records' outreach programs.
"My instructors opened my eyes to look outside of my own little circle and brought students of different cultures and walks of life together to create new musical idea and songs," said Leming. "I still collaborate with them and next fall I am going to Specs Howard School of Media Arts to pursue music engineering."
Most of the financing for the new music center came from Community Records' outreach programs. Community Records is an L3C, a social for-profit.
"We're a for-profit with a nonprofit soul," said Jackson, referring to all the community partnerships that Community Records has built with dozens of groups and nonprofits including the Ozone House Drop-In Center, the Ann Arbor Hands-On Museum and Camp Take Notice.
For more information on the new Community Records Music Center and upcoming classes, see its website.