Posted on
Sun, Jan 13, 2013 : 5:59 a.m.
Community will choose top 10 names for unified Ypsilanti-Willow Run district
By Danielle Arndt
What's in a name?
The entire Ypsilanti community will have a chance to weigh in at two public meetings set to select the top 10 names for the unified school district.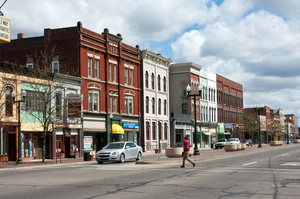 Steve Pepple | AnnArbor.com
Community members have until Jan. 15 to make a suggestion of what to name the
consolidated
Ypsilanti-Willow Run
school system, which officially exists starting July 1.
But even those residents who don't have any ideas about what to call the new school district can give feedback on other people's suggestions and take part in the historic process.
Public forums will be:
6:30 p.m. Wednesday, Jan. 16 at the Ypsilanti High School Media Center, 2095 Packard St.
10 a.m. Saturday, Jan. 19 at the Willow Run Intermediate Learning Center, 235 Spencer Lane
Katherine Lawrence, a researcher with the University of Michigan, will facilitate the two forums. Lawrence has experience leading collaborative workshops and retreats on creativity and innovation, school officials said.
At the forums, the public will review and discuss all of the suggestions and come up with a list of the top 10 names.
The top-10 lists will be given to a board-appointed committee comprised of students, parents, alumni, business leaders and community members. This group will narrow the list of recommendations to the top three names, according to minutes from a Dec. 20 unified school board meeting.
Emma Jackson, communications director for the Washtenaw Intermediate School District, said she's received three dozen emails from people who have submitted suggested names. Jackson said that doesn't include the amount that may have been submitted in drop boxes at schools and Ypsilanti District libraries.
Some names that have been suggested are Woodruff's Grove, Ypsilanti Unified, Ypsilanti Consolidated and Ypsilanti Community. Jackson said many of the suggestions have some sort of historical significance to the Ypsilanti area. Names involving "liberator" and "bomber," which are related to the history of the Willow Run community have also been submitted.
"I don't know if these names will resonate with the community at large, but there have been nods to both communities," Jackson said. "History seems to certainly be an important factor."
Jackson said the meetings will allow the community the chance to help determine whether the district should keep remnants of the current districts or start fresh.
"We appreciate the wide variety of suggestions that have already been received and would just encourage people to continue having conversations regarding the name," Jackson said.
The committee will vote on the best choice from those three names and make a final recommendation of one name to the full unified school board on Feb. 4 with a vote on the recommendation to follow.
Name suggestion boxes are out at every school building and Ypsilanti District Library branch locations. Names also can be submitted electronically by emailing ejackson@wash.k12.mi.us.
This phase of public input is for the new district's name only. Mascots will be discussed at a later date. However, the public can submit mascot ideas for later consideration, school officials said.
Ypsilanti reporter Katrease Stafford contributed to this report.
Danielle Arndt covers K-12 education for AnnArbor.com. Follow her on Twitter @DanielleArndt or email her at daniellearndt@annarbor.com.