Posted on
Sun, Jul 28, 2013 : 12:42 p.m.
Conference for young men aims to foster spiritual and intellectual development
By Chelsea Hoedl
Ekklesia Fellowship Ministries, 123 N. Adams St. in Ypsilanti, will host a two-day conference for the spiritual and intellectual development of young men in the Ypsilanti, Ann Arbor and Detroit communities on Aug. 2-3.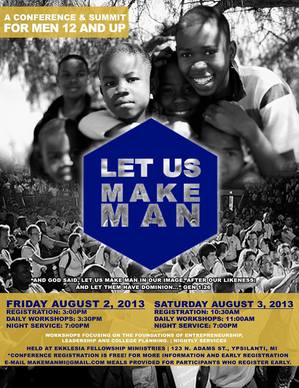 Courtesy of the Let Us Make Man Conference.
The Let Us Make Man Conference, open to men 12 years old and up, will focus on topics like spiritual growth, college readiness, foundations of entrepreneurship, community service and leadership, event organizer DeVaughn Swanson said.
"This conference is an idea that I came up with about three years ago," Swanson said. "I was born and raised in Ypsilanti and had access to mentors within the area throughout my childhood. The community had a village mentality and offered me a great deal of support. Now we just want to make sure that that same mentality is still going on."
A committee of emerging young leaders interested in the development of the community has put together the Let Us Make Man event, which will feature workshops throughout the day and spiritual services starting at 7 p.m.
Ten speakers including community activists, business owners, lawyers and local clergy as well as educators and representatives from colleges in the area will lead panel discussions, give motivational speeches and engage in discussion with event attendees.
An additional five to 10 men from the community, including counselors and local leaders, will be available to talk one on one with attendees and provide additional support throughout the conference.
"Individuals who have a thirst for more; special people in the community who have a will to succeed and want to make the best of life, but need a little bit of guidance along the way - those are the men who will benefit from this conference," Swanson said. "And those people who are not motivated and have no one to look up to should benefit greatly. It's meant to be motivational and inspiring."
The event, funded by Ekklesia Fellowship Ministries and individual sponsors, will provide attendees with meals throughout the day.
On Friday, Aug. 2, participants will register at 3 p.m. and workshops will begin at 3:30 p.m., which will be followed by a night service at 7 p.m.
"On Friday, we will be focusing on learning the foundations of business," Swanson said. "They will learn how to write a business plan and what goes into founding a business. It's important that young people in the community see what success looks like in the real world so they learn from more than just the media's interpretation."
On Saturday, Aug. 3, attendees will register at 10:30 a.m. followed by daily workshops and panel discussions starting at 11 a.m. A second night service will be held at 7 p.m.
"The event committee's goal is to make this a signature event for the Ypsilanti, Ann Arbor and Detroit area," Swanson said. "We're definitely confident that in a matter of years we will have people traveling to speak and attend this empowerment conference. This is our pilot year, but we're hoping to expand and attract people from around the country."
To register for the Let Us Make Man conference or to learn how you can help out, email the event committee at makemanmi@gmail.com.
Chelsea Hoedl is an intern reporter for AnnArbor.com. She can be reached at choedl@mlive.com.