Posted on
Fri, May 3, 2013 : 7 p.m.
Consolidated school district offers jobs to 171 teachers; 73.6% are from Ypsilanti
By Danielle Arndt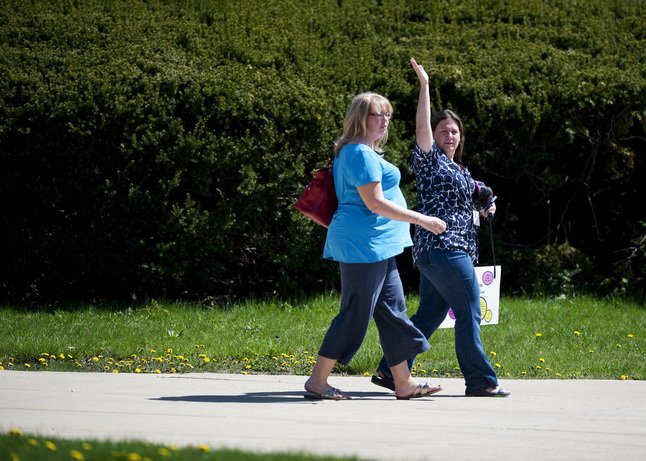 Daniel Brenner | AnnArbor.com
Editor's note: The headline of this story has been corrected to reflect the right percentage of Ypsilanti teachers that were hired.
Teachers at Ypsilanti and Willow Run schools received notice Friday of their status with the new consolidated district.
Of the 258 total internal applicants, 171 or 66.3 percent received "yes" letters, informing them that they had met the criteria established by the joint Board of Education and the High Quality Teachers and Teaching Committee and will be offered jobs with Ypsilanti Community Schools.
Of the 171 teachers guaranteed spots in the new district, 43 employees, or 25.1 percent, were from Willow Run, while 126 people, or 73.6 percent, were from Ypsilanti.
Ypsilanti Public Schools, which currently staffs 184 teachers, had 183 people apply for a position in the new district, which equates to about 71 percent of the 258 total applicants. YCS and Washtenaw Intermediate School District Superintendent Scott Menzel said while it appears nearly every teacher from YPS applied, in actuality there were some paraprofessionals and administrators from within the district who also applied for teaching positions because they also have the appropriate teaching certificates.
YCS officials have encouraged employees of both districts from the beginning of the merger process to apply for multiple positions within the consolidated district.
From Willow Run Community Schools, there were 73 applicants, about 28 percent of the total number. The district employs 90 teachers for the 2012-13 academic year.
Thirty-two teachers, or 12.4 percent of the total applicants, were told they met the consolidated district's hiring criteria, but because of enrollment uncertainty and budgetary restrictions, they will be placed on a callback list for if a position becomes available. The breakdown of "maybe" teachers was 12 from Willow Run and 20 from Ypsilanti.
Roughly 21 percent of the total applicants or 55 teachers were given "no"s from the new district. Eighteen of those were teachers from Willow Run, while 37 were teachers from Ypsilanti.
Of the 171 teachers who were told they will be given a job within the new district, 131 of the teachers were white, 26 were black and 14 were an unknown ethnicity. Documents provided by WISD officials show that 15.5 percent, or 40 of the total applicants, were black.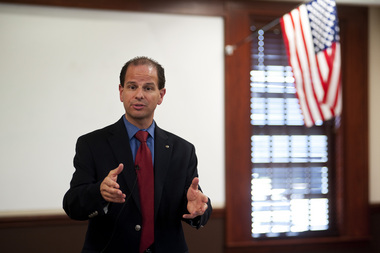 Daniel Brenner | AnnArbor.com
Menzel said just because a person receives a "no" doesn't mean he or she is not a good teacher.
"There were some cases where not enough evidence was provided in that short window to demonstrate that a teacher met the criteria," he said. "If additional postings for positions have to go out, people who were given a 'no' can be reconsidered and will have more time to provide that evidence."
He added the interviewing and the methodology used was not foolproof: "Could it be possible that a strong teacher didn't get a 'yes' letter? It's possible. Could it be that someone got a 'yes' who might not be the greatest? It's possible.
"… (Hiring's) a human process," Menzel said. "We tried to be diligent and we worked to be consistent."
Teams of retired teachers and retired administrators were assembled to conduct the interviews. They were given training prior to the interviews to ensure consistency throughout the process, officials said. Candidates were scored on a scale of 1 to 5 in four key areas: application review, references, a classroom visit and an interview.
But teachers in Ypsilanti and Willow Run have been critical of the hiring process and of the teams who did the interviewing and application review.
Ypsilanti teacher Barbara Martin called the process "weird" and "mysterious" saying some of her colleagues did question whether it was equitable.
Teachers from Willow Run, who asked to remain nameless for fear of losing their "maybe" status in the new district, said the team of retirees didn't ask candidates what they taught often until the end of the interview. And despite having observed the candidates in the classroom first, on more than one occasion the teams could not figure out the teachers' roles without asking. One Willow Run special education teacher said the team confused him for a paraeducator.
Teachers also expressed concern that their references were not contacted. Menzel said the "references" that was included in the teacher's overall score was not based on the references the applicant provided. This score was based on a survey initially given to the teacher's supervisor or building principal to complete about the candidate.
Menzel said the hiring team quickly realized calling of the candidates' references would be too time-consuming and would push back the decisions even further. Officials wanted to give teachers adequate time to make other arrangements, especially if they were not guaranteed positions, he said.
School officials determined how many teachers it would need to hire back by estimating the new district's enrollment totals for 2013-14 at 80 percent of the current school year. Officials do not anticipate losing 20 percent of its student population, Menzel said, but they wanted to be on the safe side and be able to confidently offer positions to the "yes" teachers without those teachers needing to worry about being laid off when school resumes in the fall.
"We wanted to make sure we were not overcommitting. We didn't want to get to August or September and realize half our students didn't show up and we have more teachers than we need… That has a financial impact as well," Menzel said.
Eighty percent of Ypsilanti and Willow Run's fall 2012 enrollment would be about 3,825 students. Ypsilanti had 3,339 children enroll at the beginning of the year, while Willow Run had 1,442.
Menzel said although the new district still does not know yet what its total operating budget will be for the 2013-14 school year, officials are working closely with legislators to try to pass a state statute that would allow two consolidating districts to keep the highest per-pupil foundation allowance. Ypsilanti receives $7,513 per student, whereas Willow Run receives $7,310.
Right now, state law requires consolidating districts to use a blended foundation allowance, which Menzel said is not an incentive for smaller districts to consolidate.
If the new legislation succeeds and the 3,825-student projection is correct, Ypsilanti Community Schools could expect to receive about $28.7 million in state funding.
Danielle Arndt covers K-12 education for AnnArbor.com. Follow her on Twitter @DanielleArndt or email her at daniellearndt@annarbor.com.