Posted on
Wed, Sep 12, 2012 : 5:59 a.m.
Corner Brewery: $1M expansion follows growth into Ypsilanti destination
By Katrease Stafford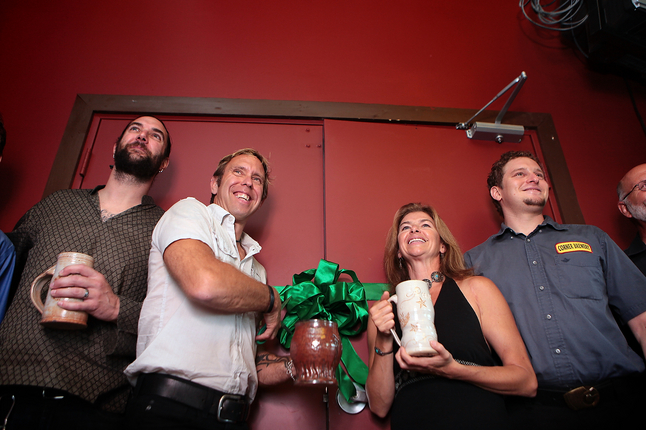 Chris Asadian | For AnnArbor.com
Matt and Renee Greff remember what the corner which now is home to the popular Corner Brewery in Ypsilanti used to look like.
"When we first started looking at this location it was vacant," Matt Greff said. "Out back, there was a mattress with some empty pint bottles and some syringes."
"All of the windows were broken out," he said. "When we first opened people said, 'you're crazy, why are you going to open up a place in Ypsilanti?'"
The 9,000-square-foot building at 720 Norris St. was vacant for nearly 11 years. The Greffs purchased it in 2006 for $400,000 from Ken Schwartz, according to the city assessor.
The Greffs said the building has since been drastically changed.
This year, the Greffs completed a $1 million expansion and Green Brewery Project that included a new 2,200-square-foot warehouse to be used for bottling services and several solar projects.
Chris Asadian | For AnnArbor.com
Rene said it took several years to find a location because the couple had a hard time finding someone to back them opening a business in the city. So they opened Arbor Brewing Company in Ann Arbor in 1995.
They came back to Ypsilanti in 2006 and were able to secure a location because they had a proven track record and brand recognition.
Six years later, Matt said the blight element has completely been removed from the neighborhood.
Jeffrey Smith | AnnArbor.com
" We're seeing the parking lots full," Matt said. "A vibrant community gathering space — I think this is what urban centers need,"
The business has exponentially evolved and grown, the couple says. When the Corner Brewery first opened, it had five employees.
Now, the Greffs have about 30 employees.
"We have grown more than we ever imagined," Rene said. "We had no kitchen staff and we didn't have a separate kitchen. The bartenders made sandwiches. It was a very small operation. Today, we have a huge brewery staff and kitchen staff."
Rene said initially they underestimated the on-premise selling capability and were surprised at how the location turned into much more than a distribution center.
"Given the location, we weren't sure how much on-premise business we were going to do and that's been a pleasant surprise for us," she said. "We've been completely embraced by the neighborhood and we have so many local regulars that come and that's what created the demand for increasing our kitchen and adding more staff."
The Greffs just completed a $250,000 Green Brewery Project which included solar-thermal, photovoltaic, and geo-thermal technologies along with other improvements such as new windows, awnings and energy-efficient chiller equipment.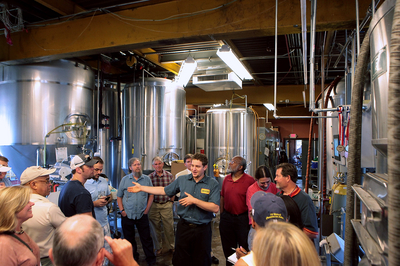 Chris Asadian | for AnnArbor.com
AnnArbor.com reported in July the two businesses have been dubbed as Michigan's first solar breweries. The Greffs said that project almost never came into fruition after difficulties with a contractor.
The Corner Brewery project was completed by the end of July and will provide all of the hot water needs and up to 15 percent of its electricity. This will save the brewery $20,000 a year — nearly 50 percent of its energy bills.
The Greffs said by investing in all of these changes, they remain a step ahead, and also has allowed them to increase production.
In the span of 30 years, the number of U.S. breweries have grown from less than 100 to more than 1,700. In 2011, there were 1,989 breweries, and of that number 250 were new, creating a 15 percent increase in craft breweries.
Even so, the Greffs welcome the competition from local breweries and restaurants.
"With Red Rock and Wurst Bar opening, people are always like, 'are you worried about competition?'" Matt said. "And we're like, 'no way, the more the merrier.' It's just giving people a reason to come to Ypsilanti to try a bunch of different places. ... It is a business market here."
Rod Johnson, an Ypsilanti planning commission member, attended the Aug. 29 ribbon-cutting ceremony that celebrated the brewery's energy project.
Johnson said he and his wife have frequented the brewery throughout the years and believes it has added value to the community.
Johnson was on the commission when the Greffs first opened and said the commission made sure the business would be a good fit for the local neighborhood.
"We like the place. It's local beer and we can walk here from our house," Johnson said. "It is a community operation and unlike other entities in various towns, it's a very good reflection on Ypsilanti. These people are active in the community and the community pays it back by supporting them."
Katrease Stafford covers Ypsilanti for AnnArbor.com.Reach her at katreasestafford@annarbor.com or 734-623-2548 and follow her on twitter.