Posted on
Thu, Apr 18, 2013 : 5:59 a.m.
Could a 2-lane roundabout be in Ypsilanti's future?
By Katrease Stafford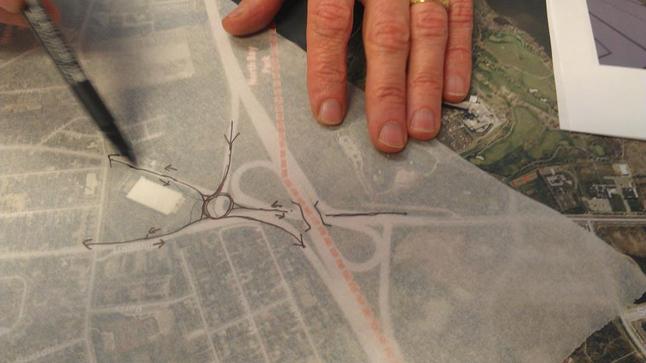 Courtesy photo
A roundabout connecting Huron Street and Hamilton Street just north of I-94 in Ypsilanti would make the city more pedestrian friendly and create safer streets, according to Planning Consultant Ian Lockwood, who also believes converting to two-way streets could have an economic impact.
"We're thinking the entrance feature into town probably (should) be a roundabout," Lockwood said Wednesday at a joint Ypsilanti City Council and Planning Commission meeting. "What we would like to see is a transition from highway behavior."
Lockwood, a principal transportation engineer with AECOM Inc., is working alongside ENP & Associates to update the city's master plan. Converting Huron Street and Hamilton Street into two-way streets and connecting them to a roundabout near the Interstate 94 ramps have been part of the various master plan discussions, but now consultants are seriously looking at the steps it would take to make it a reality.
Lockwood said a roundabout would eliminate the "high speed environment" in that area since most roundabouts have speed limits of around 15 to 20 mph.
Lockwood envisions a two-lane roundabout, with a "green space" in the middle and a sign welcoming drivers to Ypsilanti. This would signal to drivers that it's "time to behave" on the road since they're driving within the city and no longer on the interstate.
"We're striving to make a connection for pedestrians," he said. "When you come off the highway, that street needs to turn into something community friendly."
Lockwood said other communities across the nation, citing San Diego and Clearwater, Fla., have benefitted economically from roundabouts.
"Businesses came in and social activity started again," he said.
Eliminating the city's one-way streets would also further the local economy, according to Lockwood, who believes the current set up deters potential customers from stopping at local businesses.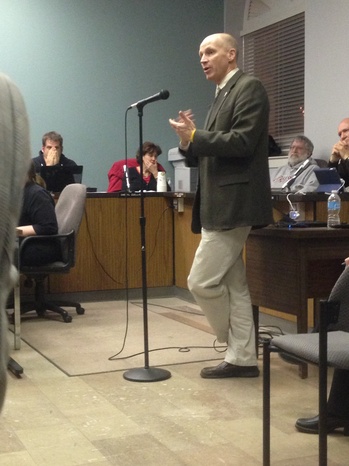 Katrease Stafford | AnnArbor.com
Lockwood said there's a misconception that the majority of traffic traveling around the area is through traffic, reinforcing his idea that the conversion would help the city.
"I would bet the majority of people coming in are local trips," he said. "I think that gives you standing to make that we want these to be trips that suit the city and we want to be rewarding long trips through the city. Being two streets really helps the businesses."
Lockwood said the conversion could also affect Eastern Michigan University and its traffic.
"What we're looking for is slower, steadier and more sober trip past the school," he said. "I don't think anyone would suggest such a high speed route between where students live... We want to get folks driving through there respectfully. Two-way streets would kind of restore that university-city interface and create a more permeable connection."
The street conversion would narrow the streets, Lockwood said, enabling the city to pursue creating more on-street parking potentially right along the northside near EMU's campus.
"You could put 80 in front of the university and 50 across from the university," he said. "That gives us some pretty sizeable parking supply in the area."
Lockwood said he has met with representatives from the Michigan Department of Transportation, who are "open" to the idea.
"They said if we do the homework, they would be open to it," he said. "... We're optimistic about that change."
Former Mayor Cheryl Farmer said she thinks the roundabout could also potentially connect parts of the city that were previously isolated, citing the $16 million Hamilton Crossing redevelopment. Farmer also said the city should look at how the roundabout could also tie in the Monroe-Madison neighborhood area to the west.
"I can see where the roundabout will help draw Hamilton Crossing into the community," Farmer said. "What can we do to help that area of the community be more successful? It seems having a vision and setting rules can help the community be more successful."
City Manager Ralph Lange didn't say he was against the idea of creating a roundabout, but expressed concern for how the city would pay for it.
"I know that's a lot of money and where's that going to come from?" Lange said.
Katrease Stafford covers Ypsilanti for AnnArbor.com.Reach her at katreasestafford@annarbor.com or 734-623-2548 and follow her on twitter.