Posted on
Sat, Aug 24, 2013 : 5:56 a.m.
Counterfeit small bills regularly surfacing in Ypsilanti businesses
By Tom Perkins
Counterfeit money is being passed around Ypsilanti and Ypsilanti Township.
And while authorities and businesses say it isn't a totally uncommon occurrence for the area, the number of bills discovered has increased over the past month and the denominations are smaller than what has typically been found in the past.
Several business owners say the fake $5 and $10 bills they discovered caught them off guard.
"I've seen fake money before, but it's surprising this time because it's usually bigger bills. This time they're doing smaller bills," said Jeremy Wonch, a manager at Ypsilanti's Tower Inn Pizza, which has found several fake $10 bills and a $5 bill over the past three weeks.
Tony Hibbard, a bartender at downtown Ypsilanti's Tap Room, said his bartenders have been passed four counterfeit $10 bills in the past month. He said his employees now hold every denomination up to the light to ensure that there is a strip and they have notified the Ypsilanti police of some of the bills.
The YPD has only received two complaints of counterfeit money in the past month, according to Ypsilanti Police Sgt. Thomas Eberts, but he said officers have heard informally of more incidents in the city and in Ypsilanti Township.
He said the department has also been hearing only of $10.
"It's a little odd that it's that small of a denomination," he said.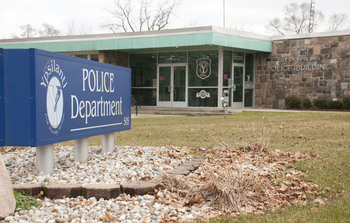 Tom Perkins | For AnnArbor.com
Investigations into counterfeit money can be difficult for police because there is no way to trace where cash has been.
"Generally, if there is no suspect information that we can follow up on or a video or a business remembering and knowing who passed a bill, it's very hard to track," he said. "With every counterfeit case we let the Secret Service know, and we send the money to them."
Eberts said bills are easier to counterfeit as technology improves, which could explain why smaller bills are surfacing.
"There's been an increase with the increase in technology with printers," he said. "It used to be kind of an art and now any hack off the street can try to make a counterfeit bill with printers that are available."
Two years ago, the US Secret Service caught an Ypsilanti man trying to pass fake bills.
Terry's Bakery owner Mark Swanson, who is also a member of the Downtown Association of Ypsilanti, said he spoke with around a dozen business owners throughout Ypsilanti and Ypsilanti Township who have received small counterfeit bills.
Terry's Bakery discovered it had two counterfeit $10 bills when they went to make a deposit, Swanson said.
Jami Mitchell, a teller at Key Bank's downtown Ypsilanti location, said the bank had seen several counterfeit $10 bills come through its location in the past week. But she added that seeing fake money in Ypsilanti is not a rare occurrence.
Key's policy when it receives a counterfeit bill is to forward a report to the Secret Service, Mitchell said.
"We also always try to inform our business clients," she said.
If businesses don't catch a customer passing a counterfeit bill, then the business takes the loss. If the bill is unknowingly passed to the bank and the bank doesn't catch it as it is being passed, then the bank takes the loss.
Hibbard said the bills feel as though they have been soaked in water for three days.
At Tower Inn, Wonch said the business is now running specialized markers across the bills as an extra precaution. He said they also have a fake bill posted and have instructed their employees to note how it feels different from normal bills.
One of Tower Inn's delivery drivers was recently passed a counterfeit bill, and drivers can't be sent out with markers, Wonch said.
He said the bills feel cheaper and "more fragile" than regular money.
"It's our responsibility to catch it. There's not much else you can do," Wonch said.
Tom Perkins is a freelance reporter. Contact the AnnArbor.com news desk at news@annarbor.com.