Crash sends 2 drivers to hospital, 1 in critical condition
Posted on Wed, Oct 24, 2012 : 2:38 p.m.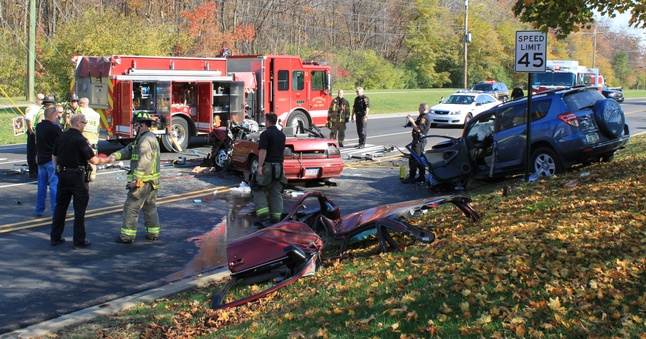 Photo courtesy of Dwight Burdett
A two-vehicle crash on Clark Road near Golfside Road Wednesday sent two people to the hospital, one in critical condition.
The crash, which occurred on Clark Road just east of the intersection with Golfside Road, trapped both drivers in the wreckage, Pittsfield Township Fire Chief Sean Gleason said. Firefighters worked for about 15 to 20 minutes to free one driver, a woman, and up to 45 minutes to free the other driver, a man.
Huron Valley Ambulance paramedics took both drivers to St. Joseph Mercy Hospital. The man was in critical condition, said spokeswoman Karen Gabrys. The woman was in stable condition, she said.
The crash occurred about 11:30 a.m. The intersection was closed while firefighters freed the victims and sheriff's deputies investigated the crash.