Posted on
Fri, Dec 28, 2012 : 5:57 a.m.
Crews begin demolition of Gault Village K-Mart abandoned for more than 20 years
By Tom Perkins
Tom Perkins | For AnnArbor.com
For several years, Ypsilanti Township and Washtenaw County Circuit Court-ordered deadlines to demolish or repair the Gault Village K-Mart have come and gone.
On Dec. 20, cranes could finally be seen breaking down the walls of the cinder block structure.
"We're very happy that it's finally coming down," said Mike Radzik, director of the township's office of community standards.
The 235,000-square-foot Gault Village Shopping Center and K-Mart along Grove Road near Interstate 94 are owned by Sylvan Township-based Union Lake Associates. The company was ordered by Judge Donald Shelton to tear down the K-Mart by the beginning of September 2011 and make other repairs throughout Gault Village.
Among other issues, the K-Mart has a collapsing roof, crumbling outer wall and mold infestation. The alley behind the building on the southside borders a residential neighborhood and was barricaded for the past year. It has been attractive to vandals and the crumbling wall caused safety concerns.
Officials have reported that the building has suffered from years of neglect.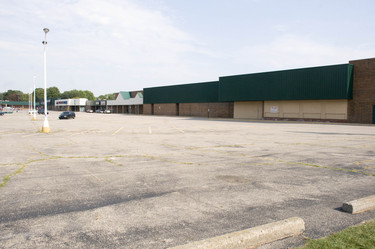 Tom Perkins | For AnnArbor.com
"This is huge for the Gault Village neighborhood to the south and east, especially people living directly behind the K-Mart," Radzik said. "I have to believe people living along there are celebrating because they've been living with this for quite a number of years."
The K-Mart and the plaza suffered after an exit at nearby I-94 was closed due to safety issues. Township officials have said Union Lake plans to split the lot from the rest of Gault Village and try to attract new development to an out-lout. Union Lake representatives couldn't be reached by AnnArbor.com.
Union Lake also agreed to repair or tear down shelters over sidewalks that were collapsing. Mold also was discovered in other parts of the plaza, though it has since been removed.
Other national chains in the plaza include a Hollywood Video, Family Dollar and Aco Hardware store.
Despite the other repairs, the K-Mart, which has stood abandoned for more than 20 years, remained.
Ypsilanti Township attorneys previously said Union Lake claimed it was financially unable to complete the demolition in 2011 and through much of 2012.
When Shelton ordered the K-Mart demolished for a second time by July 2012, plans were stalled by several issues. The state rejected an asbestos assessment first provided by Union Lake's contractor, and special considerations were taken to remove asbestos-laced materials.
The project also is complex because Measurement Inc., a company that grades standardized test scores from local school districts, occupies the adjoining unit in the plaza. A new exterior wall had to be built next to Measurement Inc's interior wall before tearing the old building down.
Township engineers and building officials had concerns over Union Lake's plans, which delayed the project.
Tom Perkins is a freelance reporter for AnnArbor.com.