Posted on
Wed, May 8, 2013 : 1:46 p.m.
Depot Town Farmers' Market to move Saturday location due to The Color Run
By Katrease Stafford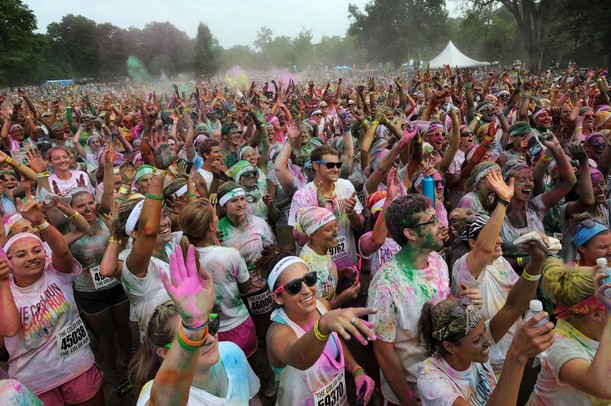 Melanie Maxwell I AnnArbor.com
The Color Run event this Saturday is expected to bring more than 14,000 people through the city of Ypsilanti and as a result, Depot Town Farmers' Market organizers have decided to move from its usual location.
The starting line for The Color Run event is in Depot Town and organizers realized they would have to either cancel the market or move the location. The Depot Town Market is typically held from 9 a.m. to 1 p.m. Saturdays at 100 Rice St. This Saturday's market will be held at the Ypsilanti High School instead.
"We didn't want to cancel because it's only the second week," said Growing Hope Market Manager Dayna Sprentall, who now helps operate the market. "We're very grateful that the high school administration was so willing to partner with us."
The Depot Town Farmers Market opened last Saturday, May 4, with 30 vendors and more than 600 customers, nearly doubling the average counts from 2012.
AnnArbor.com previously reported this is the first year that the Depot Town market is being managed by Growing Hope.
The market this weekend will be on Saturday, at the same time as usual, at 2095 Packard Road in the Shadford Field parking lot near the corner of Hewitt and Packard.
This is the second year The Color Run event has been in Ypsilanti. The route will be the same as the first event, in which onlookers tossed colored cornstarch at those running or walking in the 5K event.
Participants will start in Depot Town and continue to Eastern Michigan University's campus and downtown Ypsilanti, finally ending back in Riverside Park.
Riverside Park will be transformed into the "race village" and the starting line will be right across the river on Cross Street in Depot Town. The race starts at 8 a.m. and runners will not all start at once, but will begin in waves.
Katrease Stafford covers Ypsilanti for AnnArbor.com.Reach her at katreasestafford@annarbor.com or 734-623-2548 and follow her on twitter.