Posted on
Tue, Jan 8, 2013 : 1:17 p.m.
Downtown Ypsilanti Farmers' Market sees increase in sales, customers
By Katrease Stafford
The Downtown Ypsilanti Farmers' Market has seen an increase in sales, with more than a third coming from state food assistance programs, the Ypsilanti Courier reports.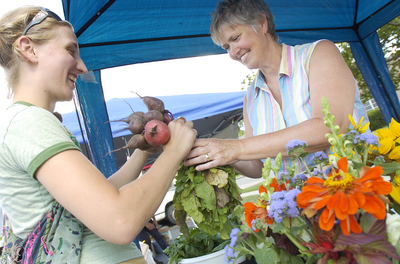 Farmers market manager Christine Easley told the Courier that more than $148,000 was spent during the 2012 season. About 35 percent of this was from assistance programs such as WIC and state-issued food stamps.
The market's sales are up $39,000 compared with last year and more than a $50,000 increase from 2010, according to the Courier. The market had 18,523 customers in 2012, an increase from 17,642 in 2011.
The Downtown Ypsilanti Farmers' Market is open weekly on Tuesdays during May through October from 2 to 6 p.m. The market is on Ferris Street between South Adams and South Hamilton. The winter market is held at Corner Brewery at 720 Norris St. on Tuesdays from 3 to 7 p.m., Nov. 6 to Dec.18.
To read the full report, click here.