Posted on
Fri, Dec 14, 2012 : 4:55 p.m.
Drag queens and dancing: Ypsilanti celebrates Christmas with the Krampus costume ball
By Tom Perkins
Christmas is fast approaching, and that means Ypsilanti's drag queens are powdering their noses, while the Corner Brewery kegs its one-night-only holiday brew.
The fun, of course, is all part of the third annual unorthodox Christmas celebration called the Krampus costume ball. The new-ish Ypsilanti holiday tradition takes costumed revelers from an evening of dancing and rock and roll at the Corner Brewery on a noisy midnight romp through the streets of Depot Town to Woodruff's.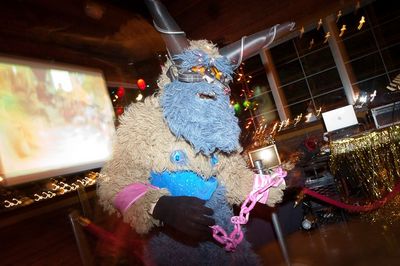 Chris Asadian | AnnArbor.com
The route is lit by torch light, chains are rattled, there is plenty of shouting, and children across Ypsilanti are reminded that Krampus will visit if they don't behave themselves.
The legend of Krampus and the Krampus party arrived in Ypsilanti three years ago from Eastern Europe. According to folklore in that corner of the world, Santa's henchman, Krampus, provides lumps of coal for the bad children and tucks the worst of the bunch in a basket to haul to the nearest river.
The celebrations still remain rambunctious in parts of Europe today, but Mark Maynard, who helps organize the fun with the Michigan Design Militia, said the Ypsilanti version is a little more playful.
"It's like an outer space monster Christmas dance party — like the cantina scene in Star Wars," he said.
Once the Krampus paraders arrive at Woodruff's they find themselves bopping to the "Elbow Deep" drag show, Ypsilanti's longest running drag revue.
The Dec. 15 ball starts at 8 p.m. at the Corner Brewery, at 720 Norris St., in Ypsilanti. The Corner offers their "naughty" or "nice" beer on tap for the party — the naughty is a sour blonde with tart fruit juice. The nice is a peanut butter and jelly stout.
The night will feature continuous video projection and a disk jockey will spin tunes. Guests for the free event are strongly encouraged to arrive in costume.
The parade to Woodruff's at 36 E. Cross, also in Ypsilanti, starts at midnight. Although the parade is raucous, Maynard says there have been no complaints from neighbors, and some find it cool that a small, costumed, torch-carrying mob is making its way through town to celebrate Christmas.
Ypsilanti held the first Krampus party any of its organizers were aware of in the United States three years ago, though other cities like Green Bay and Philadelphia also now have their own parades.
Maynard said an adult-only Christmas party is especially well-timed given all that has made headlines in Michigan in recent months.
"I think people need a chance to vent," he said. "With the state of economy and state of politics, those of us who have stayed in Michigan; I think we need a drink."