Posted on
Mon, Apr 8, 2013 : 4:56 p.m.
Eastern Leaders Group summit: Officials discuss economic revival of eastern Washtenaw County
By Katrease Stafford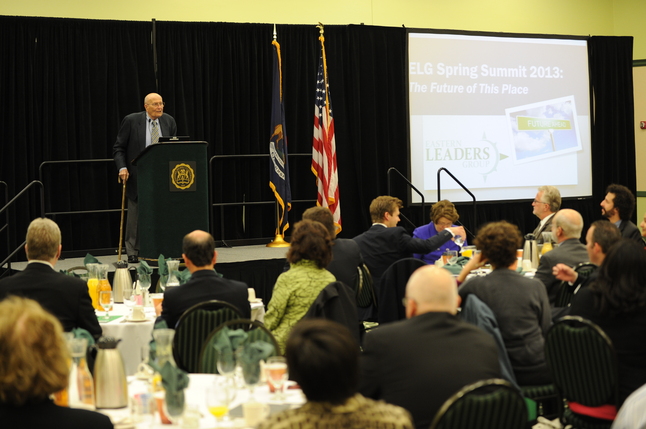 Randy Mascharka | Eastern Michigan University
A rough economy, declining property values and budget challenged schools severely affected eastern Washtenaw County during the recent downturn, but officials believe that portion of the county is on the rebound.
That rebound, according to county leaders, is in part because of several recent partnerships and initiatives aimed at bringing more businesses to the area, creating better education opportunities and revitalizing vacant properties.
"Struggle in any part of the county is an issue for the whole county," said Washtenaw County Board of Commissioners Chair Yousef Rabhi during Monday's Eastern Leaders Group 2013 Spring Summit at Eastern Michigan University. "Success here means success for the whole county. The work we do is not just eastside work, it's county-wide."
More than 100 individuals attended the summit at Eastern Michigan University's Student Center Ballroom, including U.S. Rep. John Dingell, D-Dearborn; State Rep. Adam Zemke, D-Ann Arbor; and State Rep. David Rutledge, D-Superior Township.
"We're compelled to address the fact that we have to spend every nickel efficiently," Dingell said. "... We have to make cuts wisely and prudently. Our representative government only functions if we pull together... Pulling together will make all the difference in the world."
Eastern Leaders Group initiatives
ELG leaders provided an update on each program it offers to the community. Leigh Greden, co-chair of the ELG and exective director of government and community relations at EMU, said the organization is funded 100 percent by the Public Act 88 millage.
The Washtenaw County Board of Commissioners annually approves the millage.
Anthony VanDerworp, executive director of the Eastern Leaders Group, said the SPARK East Incubator, established in 2009, has received $1.8 million in funding from federal, state local, private and other sources since inception.
The incubator has served 26 physical tenants and 17 virtual tenants since opening and has created a total of 81 jobs.
"We have quite a bit of job creation and tenants that serve there," VanDerworp said.
Citing VC Web Design as an example of a company that used the incubator, VanDerworp said the business now is looking to expand further. VC is located at 9 S. Washington St. in Ypsilanti.
"They're looking for more space and that's a very successful model," he said.
Another program, SPARK Eastern County Microloans, provides working capital for the early stages of company development. Five local businesses have been awarded $264,000 in microloans so far and 43 jobs have been created.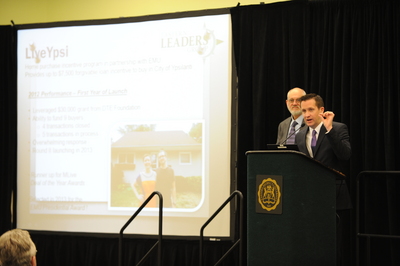 Randy Mascharca | Eastern Michigan University
"Forty-three doesn't sound like a lot of jobs, but they're going to hire more and more people," VanDerworp said.
No loans were given out in 2012, VanDerworp said, because the ELG is waiting on repayment for some of the loans before more money can be loaned out again. About $150,000 is available for working capital this year.
CEED Microloans from the group have awarded $255,000 to 13 local manufacturing, retail and personal services businesses. VanDerworp said the loans have helped to create 217 jobs and $178,000 remains available in future funding.
"There's a lot of jobs created through this kind of loan," he said. "This money specifically is used by local businesses to buy inventory or to staff up to meet a need."
ELG's Commercial Building Re-Use Program created a partnership with the Ypsilanti Downtown Development Authority to bring vacant and underutilized buildings up to code and attract new tenants.
"The idea here is we had a lot of buildings that just weren't being rented out," VanDerworp said. "... These buildings weren't up to code and they were chopped up and didn't have open floor plans businesses would like to see."
VanDerworp said this program has helped to increase the city's tax base by $73,000 and generate $657,000 in private capital investments. The program also created 28 new permanent jobs. In 2012, it was expanded to include the entire DDA district.
Greden also noted the upcoming round of the popular Live Ypsi program, that provides loans to EMU faculty and staff members who buy homes in Ypsilanti. Officials told AnnArbor.com previously the program has $45,000 available for its second round, but said it may receive additional funding.
ReImagine Washtenaw initiative
Leaders said one effort showing recent collaborations between municipalities was the creation of the ReImagine Washtenaw corridor initiative.
The project is a partnership between Ann Arbor, Ypsilanti, Ypsilanti Township, Pittsfield Township, the Ann Arbor Transportation Authority, the Michigan Department of Transportation and Washtenaw County.
Consultants have been hired to draft design standards, that would help regulate the uses of the buildings along the corridor. The focus is on mixed use, that would allow for "multi-housing" and retail.
Pittsfield Township Supervisor Mandy Grewal said the goal of the project is to create a mixed-use corridor that would be easily accessible due to high-quality transit. Grewal said leaders are looking at ways to create a consistent design and streetscape along the corridor.
Grewal said a joint technical committee comprised of planners from each jurisdiction as well as SEMCOG representatives and AATA has been created to move the project along.
Education
Zemke, who was named to the House Appropriations Committee, said education and its funding will be a priority of his moving forward. Earlier this year, Gov. Rick Snyder proposed a 2 percent funding increase for public education that would go into effect for the new fiscal year beginning in October.
"We all know higher education is key to economic development," Zemke said. "Other states like Virgina have made higher education a priority by investing hundreds of millions of dollars... My job here is to make sure Washtenaw County has a voice in the legislation."
For Washtenaw County, the merger of Ypsilanti Public Schools and Willow Run Community Schools will be key to the future economic development of eastern Washtenaw County, according to officials.
WISD Superintendent Scott Menzel said there are only 83 days until the district becomes official.
"We have less and less time before it becomes a reality," Menzel said. "In spite of the belief by so many that we can't do it, I know we can and we will."
Menzel said school leaders are working on making the new district the first choice for "an exceptional cradle to career education." Menzel said the focus is on retaining and attracting new students, as well as trying to regain the 2,600 students that left through school of choice to attend area charter schools and other districts.
"(People) need to understand we're aiming at a destination picture," Menzel said. "We believe we can bring them back and attract others from (different) districts."
Menzel said Rutledge has been instrumental in the newly-formed district securing the $6.5 million in consolidation grant money from the state.
Menzel said Rutledge also is working to help the districts be able to restructure their operating deficits, which would allow repayment over a longer period of time.
Katrease Stafford covers Ypsilanti for AnnArbor.com.Reach her at katreasestafford@annarbor.com or 734-623-2548 and follow her on twitter.