Posted on
Fri, May 10, 2013 : 1:50 p.m.
Eastern Michigan University board extends Susan Martin's contract for 2 years
By Kellie Woodhouse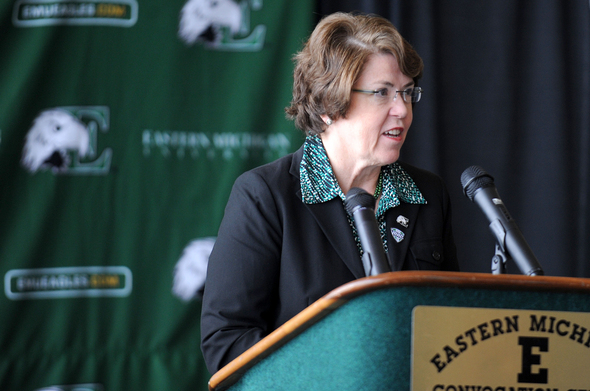 Angela J. Cesere | AnnArbor.com file photo
Eastern Michigan University
's governing board has
extended President Susan Martin's contract
until July 2015.
The two-year extension raises her salary to $300,000, up from from $292,200, and allows her a one-year paid sabbatical upon leaving her position as president.
The contract was approved unanimously during a special Board of Regents meeting Friday. Martin said she wants to focus on increasing enrollment, graduation rates and high-demand degrees over the next two years.
"All eight board members came today to show their support, together we're working on financial planning and Eastern is doing so well with record incoming students and record graduating students," she said after the meeting. "I think we have a bright future."
Board of Regents Chairwoman Francine Parker said the board decided a two-year extension was appropriate.
"We just did two years. Five seems too long; one is never enough," she said. "This is a changing environment in terms of where we are as a university and things we want to do."
Martin was hired in 2008 under a three-year contract, which was extended by two years in 2010.
In interviews, Parker and other regents pointed to highlights of Martin's tenure, including housing improvements, upticks in enrollment and the number of students living on campus, changes in the university advising system and multimillion dollar renovations and additions to the school's science complex and largest classroom building.
Under Martin's guidance, undergraduate enrollment has increased by 9.5 percent since fall 2008, with one of the largest freshman classes in college history matriculating last fall.
Regents said EMU still has far to go.
"We're nowhere near where we need to be, but we're in a better place," said Regent Jim Stapleton. "Until we have full dorms, maximum capacity on campus, full endowments —meaning our development efforts are at a maximum— and we're winning every championship in the MAC we have room to improve."
Martin said she's committed to leading EMU for the long haul. Her contract extension, like previous contracts, allows her to be fired without cause.
Martin was reprimanded by the board a year ago for arguing with an alumnus at a bar during an event in Washington, D.C. In a letter, the Board of Regents executive committee cautioned Martin about her alcohol use.
"That's in the past, as you can see today I have the full support of the board so I'd like to talk about the future," Martin said after the Friday meeting.
Both Martin and the board said they're looking toward the future and have a good relationship. Mike Morris, chairman of the Board of Regents compensation committee, said the board "absolutely" has a positive relationship with Martin.
Martin's contract stipulates that she is required to live in the president's house on the Ypsilanti campus and that she receive use of a university car.
The contract also appoints Martin as a full professor with tenure —the highest faculty rank possible— of accounting in the business school. It grants her a 12-month sabbatical when she steps down as president, whether she retires or her contract is terminated by the board. If she returns to the university as a professor, for her first year she will make 10 percent more than the highest salaried professor in her department.
Martin will not be entitled to the sabbatical or faculty position if she is fired for just cause. Among reasons Martin can be fired for just cause is any conduct constituting "moral turpitude" and that "would tend to bring public disrespect, contempt or ridicule upon the university," according o her contract.
Per her previous contract, Martin is eligible for a $10,000 performance bonus in July 2013, to be awarded at the discretion of the board.
Kellie Woodhouse covers higher education for AnnArbor.com. Reach her at kelliewoodhouse@annarbor.com or 734-623-4602 and follow her on twitter.