Posted on
Thu, Dec 16, 2010 : 1:38 p.m.
Eastern Michigan University unveils new $90M Science Complex
By David Jesse
Lon Horwedel | AnnArbor.com
It can be hard for Eastern Michigan University astronomy students to study the night skies during the cloudy winter Michigan months.
That will start to change in a couple weeks, thanks to a new planetarium that's part of the $90 million in renovations to what is becoming the university's Science Complex.
University and state officials unveiled the renovations during an event this morning — complete with students pulling large plastic sheeting from the top floors of the atrium to reveal the new planetarium.
When clouds cover the skies, EMU students will be able to come inside the planetarium and see the skies projected on a 28-foot sphere.
"We'll be able to project the skies in 3-D, which will make it easier for students to study them than when we did it on 2-D screens," said Jim Carroll, the head of EMU's physics and astronomy department.
The plan is to schedule EMU classes in the space Monday through Thursday, and then use it on Fridays to host local schools' explorations of the heavens. Plans call for opening the space to the community on the weekends.
The planetarium, and the five-floor spherical atrium, are the most striking features of the new complex, which added 80,000 square feet to the existing 180,000-square-foot Mark Jefferson building. It will house the biology, chemistry, geography and geology, physics and astronomy and psychology departments.
Now that the addition is complete, renovations are expected to begin in January on the Mark Jefferson building, officials said.
The addition has 35 science labs.
"In the science complex, the research spaces are student spaces," said Ross Nord, the head of EMU's chemistry department.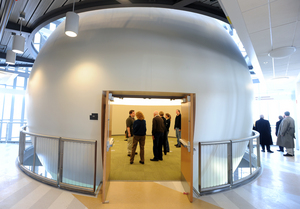 Lon Horwedel | AnnArbor.com
The building's cost was entirely funded by EMU, through a 4 percent facility fee that students started paying in June 2005, EMU Board of Regents Chairman Roy Willbanks told the crowd gathered for the opening.
"This building represents the ongoing transformation of Eastern Michigan University," he said.
University officials hope to renovate Strong Hall as the final part of the Science Complex project. However, $28 million in funding for that project was recently yanked out of the latest capital outlay bill by the state Legislature at the last moment.
During her remarks, EMU President Susan Martin said that isn't deterring the university.
"We have high hopes of getting (money from) the capital outlay appropriation for the last piece — Strong Hall," she said, glancing over at Lt. Gov-elect Brian Calley, who was at the event. "This science complex will help EMU meet the national need for more teachers in science, technology, engineering and math."
The renovation is the largest construction project ever on EMU's campus.
David Jesse covers higher education for AnnArbor.com. He can be reached at davidjesse@annarbor.com or at 734-623-2534.