Posted on
Sun, May 5, 2013 : 4:57 p.m.
Education secretary Arne Duncan, Rick Snyder to visit Ypsilanti's Perry school Monday
By Cindy Heflin
U.S. Secretary of Education Arne Duncan and Gov. Rick Snyder will make an appearance at Perry Child Development Center, 550 Perry Ave., Ypsilanti, Monday, the HighScope Educational Research Foundation announced.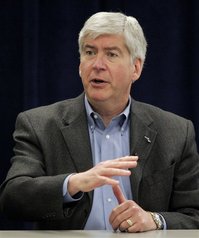 AP photo
The purpose of the visit is to highlight HighScope's
Perry Preschool Study
, President Obama's Preschool for All proposal, and Gov. Snyder's recommendation to increase funding for Michigan's Great Start Readiness program, the foundation said.
Early childhood educators and advocates, local and state educational leaders, and government officials will attend. The event, which begins at 3:30 p.m., will include a roundtable discussion.
HighScope officials have asked people who want to attend to register by contacting Sonja Caprarese at (734) 485-2000 ext. 234. Space is limited and confirmations are being accepted on a first come, first served basis.
The Perry Preschool Study, last updated in 2005, found children who attended a high-quality preschool had higher earnings in adulthood and had committed fewer crimes than those who did not attend preschool.
The Perry visit is one of three school stops Duncan and Snyder are making in the Detroit area Monday. They will also visit a fifth-grade class at Thirkell Elementary School in Detroit and Brenda Scott Elementary/Middle School, which the state Education Achievement Authority manages. The authority was created to run schools the state classifies as failing.
School will be in session at Perry on Monday and guests are asked not to park in the circle drive, which is reserved for buses.