Posted on
Tue, Nov 6, 2012 : 5:57 a.m.
Employee accused of embezzling $10,000 from EMU, placed on leave
By Kyle Feldscher
A 55-year-old woman is accused of embezzling about $10,000 from Eastern Michigan University over the summer, police said Monday.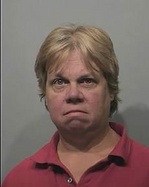 Courtesy of the Washtenaw County Sheriff's Office
Pamela McMichael, a budget analyst in the university's Extended Programs and Educational Outreach department, was arraigned Saturday on one count of embezzlement by an agent or trustee of more than $1,000 but less than $20,000, records show.
EMU Police Chief Bob Heighes said McMichael embezzled a little more than $10,000 from the university during the summer months.
"All of the investigation is not complete, we're not sure exactly how long it's been taking place," Heighes said. "The area we looked at most recently was over this past summer."
McMichael was arrested Friday and arraigned at the Washtenaw County Jail on Saturday, Heighes said. She was released on a $10,000 personal recognizance bond.
Heighes said McMichael is on leave from the university.
The alleged embezzlement was discovered toward the end of August during the normal audit process, Heighes said. Auditors found irregularities and turned the investigation over to police.
McMichael did not immediately return a message from AnnArbor.com seeking comment on the allegations.
EMU spokesman Geoff Larcom said the university could not comment on the case because it is a personnel matter.
Washtenaw County Sheriff's Office Sgt. Geoffrey Fox said McMichael's next scheduled court appearance is a preliminary exam at 8:30 a.m. Nov. 13.
If convicted, McMichael faces a maximum of five years in prison and a fine of three times the amount she allegedly embezzled.
Kyle Feldscher covers cops and courts for AnnArbor.com. He can be reached at kylefeldscher@annarbor.com or you can follow him on Twitter.