Posted on
Mon, Jun 18, 2012 : 5:58 a.m.
EMU autism center hiring full-time workers, expanding services with $500K state grant
By Katrease Stafford
After being awarded a $500,000 grant as part of the 2012-13 state budget, Eastern Michigan University's Autism Collaborative Center will use the funds to hire full-time staff members and increase its services.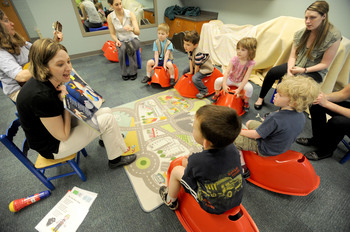 Angela J. Cesere | AnnArbor.com file photo
The budget is currently awaiting
Gov. Rick Snyder's
signature and the grant is a one-time appropriation part of the Community Health budget. The center also received a $500,000 grant last year to create a
Tele-health program
that will use a live video stream to evaluate and treat clients.
EMU College of Education dean Jann Joseph said she is "delighted" to receive the grant because it allows the center to provide more services to the community.
"We are an institution that works with state appropriations so this allows us to really decide what to offer and how to expand," Joseph said. "It gives us a lot of flexibility."
Joseph said the grant will function as seed money to hire at least four full-time workers. Currently, the center has one full-time employee. Joseph said the center will be looking for an occupational therapist, speech therapist and music therapist to add to the staff.
"We are also anticipating that we will need to hire someone on the lines of a program manager," Joseph said. "We are going to be putting up these positions pretty soon on our job board."
Joseph said the center has already offered a job to a "renowned" psychologist. Jann said the psychologist is expected to provide a variety of therapies to the center's clients.
The center has one temporary employee and seven part-time employees. Joseph anticipates some of them applying for the full-time positions.
Pamela Lemerand, director of the center, said the 2011 closure of the University of Michigan's Autism and Communication Disorders Center has brought a lot of growth to EMU's center— so much growth that the center currently has a waiting list for occupational therapy.
Joseph said there are nearly 15 families on the waiting list.
"Those people have been turning up steadily," Joseph said.
Autism spectrum disorders affect 1 in every 110 children and 1 in every 70 boys, according to the U.S. Centers for Disease Control and Prevention. It's estimated that 1 million to 1.5 million American adults and children live with an autism spectrum disorder, a condition marked by social, communication and behavioral challenges.
The center has 70 unique clients per month being served in clinical and therapeutic program services. Monthly, nearly 120 individuals access other services at the center.
Joseph said receiving the grant couldn't have come at a better time. She said the grant will allow for the staff to change the "structure" of the center.
"My goal is to be a viable entity while at the same time meeting the needs of our clients and that's what the funding will allow us to do," she said. "It will give us an opportunity to do what we're going to do it better."