Posted on
Mon, Dec 26, 2011 : 5:58 a.m.
EMU freshman shines as lone male on the dance team
By Tom Perkins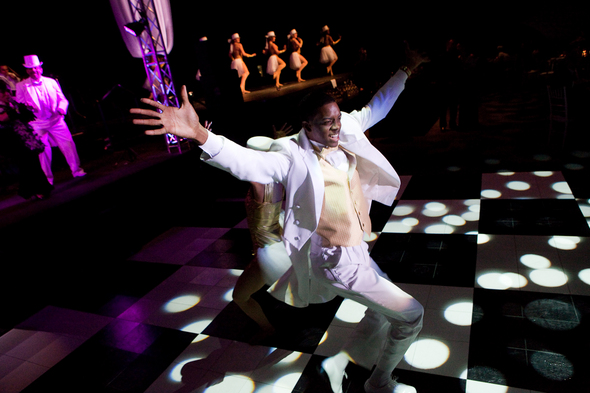 Chris Asadian | For AnnArbor.com
Shaqkib Pruitt sees his bright personality as one of his greatest gift as a dancer.
"A big light comes on in me when I perform," said Pruitt, an Eastern Michigan University freshman. "Every time I'm performing I'm having fun and I don't care who's looking at me or what's going on around me. I turn into a whole different person and I just want to get the crowd into it."
Pruitt also captures the audience's attention because he is the lone male on the EMU Dance Team.
Although that attracts some second looks from some people and challenges traditional gender roles, Pruitt loves that he is able to perform and says he receives full support from his family and the EMU community.
"One of the basketball players' dad came up to me and said 'You are so brave. Keep doing what you want to do. I respect you doing what you want to do instead of going by what other people think you should do,'" Pruitt said.
Pruitt's career in dance began in the fourth grade at the Second Center Stage in Detroit. He was the only boy his instructor had to work with, so he says he has grown used to the role and what comes with it.
It helps, he says, that his family has been behind him the whole time.
"I've always gotten nothing but positive feedback from my mom and dad and all my family," he said of the tryout. "They all came to all my performances when I was growing up. My mom has been in the front row of every performance and she has always said 'Whatever makes you happy, just go for it.'"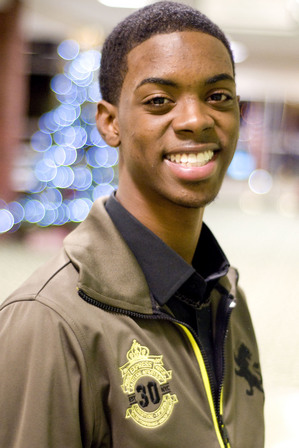 Tom Perkins | For AnnArbor.com
Pruitt specializes in contemporary dance, which he described as a "lyrical, modern, pretty kind of dance."
Upon arriving at EMU, he went to a welcoming reception sponsored by the university and met some of the girls on the dance team. He was encouraged to try out by some of dancers, so he gave it a try.
"I met all the girls and it was amazing," he said. "It was awesome; the best time ever. Even though I'm a boy, all the girls were so supportive … and made me one of them and part of the team instead of being an outsider because I'm a boy. Everything was always done equal, initiation was equal. We have a very good time."
One of the biggest challenges so far hasn't been overcoming the gender question, but being able to keep up with the talented squad, Pruitt said. Everyone comes from different backgrounds from jazz to ballet to hip-hop, and they are all good at what they do.
"I'm always looking for ways to improve and always asking for help and always trying to tighten my technique," he said. "I'm always looking for a way to better myself because there are girls who dance amazing, and I can only hope to get to that level someday."
The Dance Team was created several years ago and performs at breaks during home football and basketball games, as well as various charity events.
Pruitt said he would definitely recommend a young boy who is considering dance or a young girl who is considering something like football to give it a try.
"I would definitely tell them to go for it," he said. "I learn so much about myself by going against the odds, and if I want to do something, I do it. I have a family that's so supportive so I have no problem molding and blending in. And I'm good at what I do and I love what I do, even if there are people who are against it."
But Pruitt says he has the perfect response for those who might question his dancing.
"Are you able to do this? Do you have the guts to do this? Because I'm a lot braver than most boys. It takes a lot of guts to go out there and do this," he said.