EMU spokesman: 'Icebreaker' parties have nothing to do with university
Posted on Thu, Sep 6, 2012 : 5:40 p.m.
Eastern Michigan University issued a statement Thursday afternoon denouncing all off-campus "Icebreaker" events as organizers geared up for one such party at Spirits Restaurant and Lounge in Van Buren Township.
EMU spokesman Geoff Larcom said Thursday any off-campus party using the Eastern Michigan University name was not an official university event. He said the use of the EMU name was inappropriate and illegal.
"These are separate groups using our name to lure people," he said. "We have nothing to do with these people."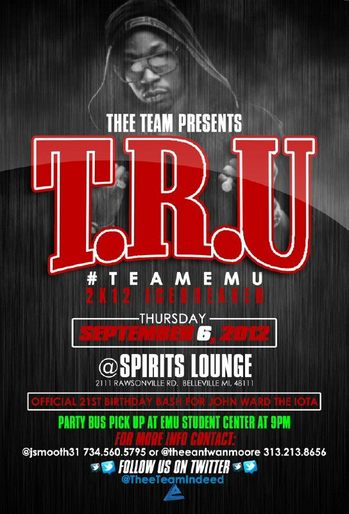 A
flier for the T.R.U #TEAMEMU 2K12 Icebreaker at Spirits
, 2111 Rawsonville Road, was posted on Twitter. Larcom said the #TEAMEMU and T.R.U. references seem to be playing off the university's TRUEMU marketing slogan.
Justin Schaffer, one of the organizers of Thursday's party, said it's all a misunderstanding.
He said his company, Thee Team, uses the #TEAMEMU part of the advertisement simply as a Twitter hashtag. Schaffer said the hashtag has been popularized by users on the social network to show their affinity for the university.
Schaffer said the T.R.U. references come from rapper 2 Chainz, who has released a mixtape and an album with the acronym.
"With my company and my promotion team, we are not using Eastern's name," he said. "All we're saying is we're team EMU. We just hashtagged it. I'm a grad student at Eastern, my promotions team are all students and that's what we focus our promotions toward."
He pointed out that the fliers for Thursday's event do not say the word "official," do not have the university's logo and don't state the full name of the university at all.
Washtenaw County Sheriff's Office Sgt. Geoffrey Fox said deputies monitor all events at Spirits. The flier advertised the event as an 18 and up event. Twitter users alluded to alcohol being on the buses, which advertised to pick up students at the EMU Student Events Center.
Larcom said the buses will not be allowed to come onto university property to pick up students.
"We would tell the buses not to come," he said. "In essence, it's a solicitation of students. The organizers of those buses will be told not to send them to campus sites."
Larcom said the event came to university officials' attention when parents called to check to see if the party at the bar actually was affiliated with the university.
There have been previous "Icebreaker" events put on by outside groups using the EMU name at various clubs in Washtenaw County, including the Passport Lounge, Dream Nite Club and Studio 4.
A Twitter account set up with the name @EMUicebreaker uses the university's logo and name throughout its page.
A second event through @OfficialTeamEmu is set up for Sept. 13 at the Clarion Hotel in Ann Arbor, Larcom said. He emphasized that event is also not sponsored by the university in any way. Schaffer said that was not a party put on by his company.