Posted on
Sat, Mar 9, 2013 : 5:58 a.m.
Entrepreneurial workshop teaches youths more than just business
By Kody Klein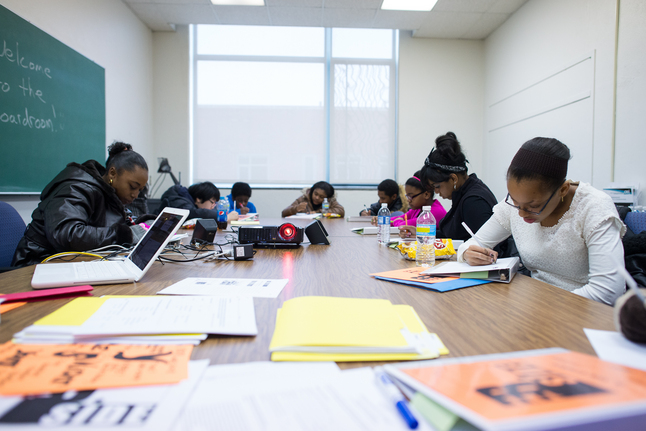 Courtney Sacco I AnnArbor.com
Diamond Alston
, a 17-year-old student at
Skyline High School
, is taking the
B. Side Basics
entrepreneurial workshop for the third time, but not because she didn't do well before.
"I'm here to keep getting better so that when I actually do get out there by myself, I know what I'm doing and I'm confident in knowing what I'm doing," she said.
Alston is one of 206 young people who have graduated from the program during the last five years.
The 10-week program exposes youth as young as 11 and as old as 21 to business ideas in a hands-on, project-based learning environment. Every Saturday, the students spend four hours in the B. Side classroom in Rackham Hall at Eastern Michigan University to learn what it takes to build a successful business.
But Jack Bidlack, B. Side director, said the program's mission is broader than business.
"The ultimate goal here is [to teach] better decision making, better planning earlier in life," he said. "Most of our youth today do not plan. Most adults do not plan. We're all flying by the seat of our pants and hoping it all works out. If you just plan, your chances of success are much better."
With decades worth of combined business experience, Bidlack and fellow instructor Kory Scheiber encourage their students to envision what they want to do with their lives and then develop goals to make it happen.
"We have a very realistic approach — we don't think every kid is going to start their own business," Bidlack said. "[But] there's going to be a few of them who are going to take it and say, 'this is something I really want to do.' We try to give them the foundation with the hope that they'll grow up to start businesses and create jobs in Washtenaw County."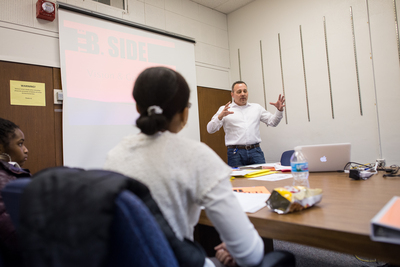 Courtney Sacco I AnnArbor.com
The B. Side began in 2007 with support from the Ann Arbor Area Community Foundation, the RNR Foundation, and the James A. and Faith Knight Foundation. Bidlack said the organization has used more than $456,652 worth of grant money to provide educational services to more than 550 youth in Washtenaw County.
"I see in a lot of these students what I saw in myself when I was much younger, that budding opportunity," Scheiber said. "I offer up anything I have as far as education and experience to let these young folks really build their business or just build a stronger career."
The program teaches basic business finance and marketing, but also sharpens what Bidlack call, "soft skills," such as communication, relationship networking, and work ethic.
"These are the building blocks for you to be successful in life," he said. "This isn't a joke. These are some basic things you need to be able to do to move forward."
Bidlack and Scheiber said they want the program to feel as much like a real job as possible.
"We expect you to be here on time, we expect you to participate, and we don't expect you to leave early," Scheiber said. "If they want to come in and slack off, sleep — you can't do that on the job. You're not going to do it here."
The program culminates with each student devising a business plan for a hypothetical venture and presenting that plan to the class.
"I've written four business plans so far," Alston said. "I'm getting better every time."
Alston came into the class with an interest in fashion, having made, mended and altered her own clothes for years. But at that time, much of her work was hand-sewn.
"Jack gave me a new sewing machine," she said.
Now, Alston plans to pursue a bachelor's in business management and fashion design from EMU, with the ultimate goal of opening her own fashion business.
"I don't think I would be here if it wasn't for this program," she said. "I wouldn't know how to do the stuff that I know how to do. I wouldn't be in the mindset that I am."
The next business basics class will be held in the fall. Registration is $50 per student, but Scheiber stressed that the fee covers 40 hours worth of training from two experienced business professionals.
"You're not going to get this level of training and experience for this cost level," he said. "That goes for any program I know of in this area."
Scheiber said some students have even qualified for paid participation through the Michigan Works! program.
Scheiber and Bidlack want to provide their students with more than education. Through their connections in the business world, they've connected more than 30 students with internships and job shadowing experiences throughout the years. As funds have permitted, they've even provided start-up capital for students who want to apply their training.
"We've had about 30 youth who've actually tested their ideas, where they received start-up funds up to about $250 to go out and buy whatever materials they would need to start their business," Bidlack said. "We've had a number of youth who've been very successful with that."
Bidlack said he hopes that regardless of their level of success, these experiences will impart a simple message on his students: "If you can't find a job, make a job."
"Take the risk — that's what this market needs," he said. "It needs people who are willing to take risks who will go out there and look at new ways to do things."
More information about B. Side's various educational programs can be found on its website.
Kody Klein can be reached at kklein@mlive.com.