Posted on
Fri, Nov 18, 2011 : 6:02 p.m.
'Escape-opoly' at Yankee Air Museum offers chance to escape World War II prison camp
By Laura Blodgett
Ever wonder what it was like to escape from a German prison camp during World War II? Here's your chance to find out, when the Yankee Air Museum debuts an "Escaping into History'' interactive event Saturday at 4 p.m.
In 2007, the British government declassified documents showing how the board game Monopoly was used during World War II to enable military prisoners to escape German prison camps and return home.
"We love games and started talking about how to make this a museum event," said Rachel Krumwiede, director of education at the Yankee Air Museum.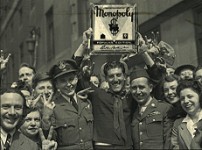 During the war, the British secret service and the owners of the Monopoly game company designed special editions of the game that were smuggled into prison camps through care packages. "These care packages from different relief organizations often included games because it served as a distraction for the prisoners," said museum volunteer Erick Tracer.
The special version included four tools hidden under the game board, including a map of the region, a compass, a metal file and real currency for that region hidden under the play money.
"We're not sure how many prisoners escaped using this game but 35,000 prisoners escaped from German camps during the war, so it is a fair assumption that at least some were able to use those tools," said Tracer.
Krumwiede and Tracer designed the museum's own family friendly interactive event to enable participants to use those same tools and take on the role of the escaping prisoners.
Each participant will receive a small box that resembles the Monopoly box of that era. Within it will be the same tools, including money that resembles 1940s francs as well as a map of the museum grounds.
As they progress, each prisoner will interact with a series of contacts and informants, including German guards, played by volunteers. Each will give them further clues on where to go next, in scavenger hunt fashion. When they eventually "escape," their reward will be the chance to celebrate their return to family and friends by playing a board game together. Refreshments will be served and the museum encourages participants to bring any board game.
The event is designed age 7 and older and children must be accompanied by an adult during the event. Depending on how quickly a team progresses, the game should take about an hour.
The museum is already planning to repeat the event in the spring and may consider making it an annual event, changing the scavenger hunt format each time.
"I think it's a fun event. It's a great event for families, and it has to do with the mission of our museum, which is to tell the story of World War II," said Krumwiede.
Advanced tickets are $25 per family and can be purchased at www.yankeeairmuseum.org or at the museum. Tickets can also be purchased at the door the day of the event for $30.
The Yankee Air Museum Is located at 47884 D Street, on Willow Run Airport East, in Belleville.