Posted on
Sat, Mar 30, 2013 : 5:58 a.m.
Washtenaw Avenue redevelopment: What's next for ex-Farmer Jack, Ypsi-Arbor Lanes properties?
By Katrease Stafford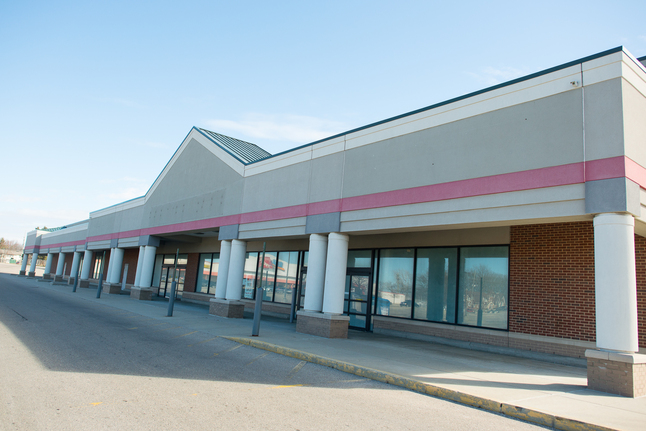 Courtney Sacco | AnnArbor.com
The redevelopment of the former Farmer Jack and Ypsi-Arbor Lanes properties could serve as a "catalyst" for the ReImagine Washtenaw corridor initiative, according to Ypsilanti Township officials.
"We would like to see that corner act as a catalyst for the rest of the corridor," said Township Planner Joe Lawson. "...That corner is the start to the ReImagine vision."
Both properties being redeveloped would have a tremendous effect on not only the township, but the other municipalities that border Washtenaw Avenue, Lawson said.
"They're the anchor of the township and the entrance into Ann Arbor," said Township Supervisor Brenda Stumbo. "What we're trying to do with the Washtenaw corridor is have connectivity. There's been a lot of time and effort put into that vision. It's going to spur economic development."
The redevelopment of those two properties has been slow to happen, but officials remain optimistic.
As of Friday, the county's 2012 delinquent tax data show the ownership entity, Ypsilanti Real Estate Holdings LLC, owes $104,057.88 in taxes on the former Farmer Jack property. If paid after March 29, interest would be added to that amount, bringing the total to $109,260.78.
The company, based in Franklin, Mich., is registered to Imad Al-Azem, state records show. Al-Azem bought the property for $8.5 million in 2005. It's now assessed at a little more than $1.5 million, nearly half of when it was assessed in 2010 at just under $3 million.
Al-Azem could not be reached for comment.
Lawson said he hasn't heard much from the owner recently.
"The Salvation Army was looking at that building not too long ago as a thrift shop, but I'm not sure if that deal is moving forward," Lawson said. "We haven't heard anything from the building owner in quite some time."
The Ypsilanti Township store has been vacant since 2007, despite Farmer Jack having a lease that was set to expire on Feb. 28, 2019. Farmer Jack's parent company, A&P, filed for Chapter 11 bankruptcy in 2010 and stopped making lease payments to building owners around the country.
"We'd love to see it redeveloped and if anyone ever comes to the township looking for space that's one of the buildings we direct them to," Lawson said,
Since Farmer Jack's closing, Lawson said the township and owner have received inquiries from several interested parties.
"There's been some other interest in it, but they were uses that don't fit the zoning," Lawson said. "One was a church group and they wanted to split the building and obviously didn't get too far with that deal... A few wanted car lots."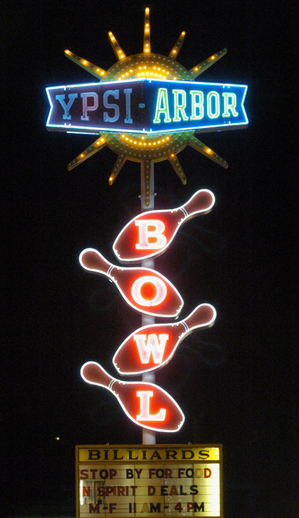 AnnArbor.com files
The former Ypsi-Arbor Lanes at 2985 Washtenaw Ave., is owned by Frankel Associates, based in Troy, and registered to Samuel Frankel. The bowling alley closed in 2011.
Its 2013 assessed value is $424,900, making its market value double that, but the building's value has decreased over time. In 2009 the building was assessed at nearly $1 million. Frankel is current on his taxes.
He could not be reached for comment.
"We had one interested party in that property about a year ago not long ago after it closed," Lawson said. "We sat down and had a meeting, but the project just didn't move forward and the business located elsewhere in the township."
Whoever chooses to redevelop the property will likely pay thousands in renovations, unless the building use remains as a bowling alley.
"That building is almost to the point of being functionally obsolete," Lawson said. "It's going to have to have so many renovations. If it was a commercial user or retail, in order for them to occupy the space, we're probably talking six-figure renovations."
Lawson said some of the proposed uses for the buildings, particularly the former Farmer Jack, didn't align with the vision for the Washtenaw Avenue Corridor.
That vision deals a lot with the ReImagine Washtenaw project, according to Lawson. The project is a partnership between Ann Arbor, Ypsilanti, Ypsilanti Township, Pittsfield Township, the Ann Arbor Transportation Authority, the Michigan Department of Transportation and Washtenaw County.
"We're going through what those goals and objectives are," he said.
Lawson said consultants have been hired to draft design standards, that would help regulate the uses of the buildings along the corridor. Lawson said the focus is on mixed use, that would allow for "multi-housing" and retail.
"Automotive and drive-thru restaurants didn't weigh favorably," he said.
The former Farmer Jack and Ypsi-Arbor Lanes buildings are key to the project, Lawson said, largely because of their high visibility along the corridor.
Lawson said the building's location has a high residential density and close proximity to two major universities and hospitals, which makes it attractive. However, getting someone to redevelop the property is a challenge in some ways.
"Geographically, it's a great location," Lawson said. "We just have to find the right user. I don't think it's a lack of marketability, part of it has to do with the overall size of the building. It just doesn't fit what a lot of (business owners) are looking for. It just goes right along with the Salvation Army and church--neither one of those uses needed that whole building."
The building is 57,600 square feet, Lawson said, and shares a large parking lot with a Kmart store.
"It's large and a typical retailer doesn't need that much space," he said. "That particular building, someone built a grocery store there for a reason because it was needed, and it could still be needed."
Lawson said township officials believe the properties will be developed.
"They're ripe for redevelopment and with things turning around at this point with developers coming forth with capital in hand, it's going to turn around at some point and we're hoping sooner than later," Lawson said. "With those properties being prime redevelopment, I think it will happen soon."
Stumbo said signs of redevelopment have already began to show along the high traffic corridor.
"Through these hard times, the walls have come down and people are working together," Stumbo said. "I feel good about it."
Katrease Stafford covers Ypsilanti for AnnArbor.com.Reach her at katreasestafford@annarbor.com or 734-623-2548 and follow her on twitter.