Posted on
Fri, May 10, 2013 : 7:17 p.m.
Fire crews douse 2 separate blazes in Ypsilanti Township
By John Counts
The Ypsilanti Township Fire Department battled two separate blazes Friday, Capt. Larry James said.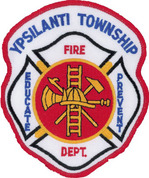 The department was first called to a farmhouse divided into apartments in the
7300 block of McKean Road
at 9:46 a.m. after receiving reports that a lot of smoke was coming from one of the units.
The fire was contained to the living room and caused an estimated $5,000 in damage, James said. The cause of the fire was a fan.
"The fan motor overheated and caught debris that had been stored in front of it on fire," James said.
There were no injuries. The elderly woman who lived in the apartment was not home at the time.
The neighbors heard the smoke alarms going off and called 911. Firefighters used foam extinguishers to put it out, which took about seven minutes, James said.
At 2:30 p.m., the department was called to the 800 block of Calder Avenue for a kitchen fire. The woman who lived in the single-family home had just left when the fire broke out, James said. A man cutting her grass noticed the fire and called 911.
The woman had been cooking, which is believed to have been the cause of the fire, James said.
"She left a pot of food on the stove," he added. "She was cooking something with grease and forgot it was there."
Fire crews had the fire out in about 12 minutes, but remained on scene for about an hour.
The kitchen was destroyed, as well as a nearby bathroom. James estimated the damage to be around $25,000.

View Ypsi twp fires in a larger map
John Counts covers cops and courts for AnnArbor.com. He can be reached at johncounts@annarbor.com or you can follow him on Twitter.