Fire damages two units in abandoned Liberty Square complex
Posted on Sun, Apr 22, 2012 : 2:13 p.m.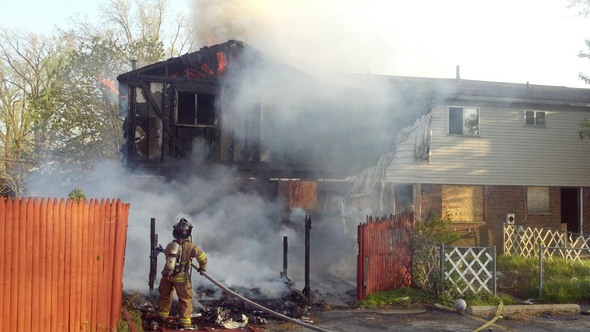 Photo courtesy of Ypsilanti Township
Two townhomes were damaged in a fire at the abandoned Liberty Square complex in Ypsilanti Township on Saturday evening.
According to a township official, the fire started in a building on Nancy Street around 7 p.m. and firefighters battled the blaze for around two hours.
Ypsilanti Township Fire Department Chief Eric Copeland said neighbors reported seeing a group of kids in the area just prior to seeing flames.
The fire appeared to start in a pile of debris and garbage outside one of the units, climbed the exterior wall and started the building's roof on fire, Copeland said.
The complex has 151 continuous units in 17 buildings. Copeland said two units were damaged and called the fire suspicious. He said it remains under investigation, and officials are attempting to locate the kids who were in the area prior to the fire.
Roads leading into the Liberty Square are blocked with guard rails, but Copeland said the department had pre-planned a way into the complex in the event of a fire or other emergency.
The Ypsilanti Township Fire Department received mutual aid from the City of Ypsilanti and Van Buren Township fire departments.
Ypsilanti Township is finalizing a contract with a company to complete an asbestos an environmental study in the complex that is the first step in the demolition process. The township is concurrently seeking federal grants to help pay for what will be a massive demolition project.
Several homeowners have filed an appeal to a Washtenaw Circuit Court judge's order to vacate and demolish the complex.