Firefighters rescue mother, baby ducks from sewer drain
Posted on Mon, Jun 4, 2012 : 6:51 p.m.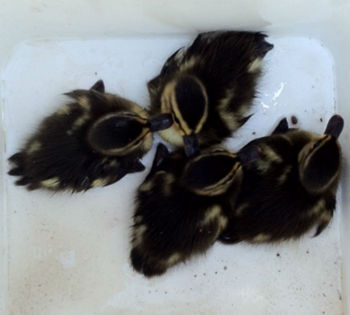 Courtesy of the Ypsilanti Township Fire Department
Five ducks were saved from a sewer drain Sunday in Ypsilanti Township.
A mother duck and four ducklings were reported trapped six feet down in a sewer grate near Eagle Trace and Breezewood Court at 11:55 a.m., according to Capt. Larry James.
"A concerned citizen probably walked by and heard them quacking," he said.
The citizen called the Ypsilanti Township Fire Department to report the ducks' situation.
Firefighters Mike Houghton and Mile Helisek lifted up three sewer grates, which weigh about 120 pounds, and somehow coaxed the four ducklings and mother duck into a bucket with a rope on it.
The ducks were then lifted to safety and released.
"The ducks were reunited with their mother and waddled away happy," James said.