Posted on
Tue, Jan 22, 2013 : 6:01 p.m.
5 elementary students transported to hospital after bus is rear-ended in Ypsilanti
By Danielle Arndt
This story was updated at 8 p.m. with information from Huron Valley Ambulance.
Five elementary students were transported to the hospital Tuesday with non-life-threatening injuries, after their bus was rear-ended on the way home from school, county officials said.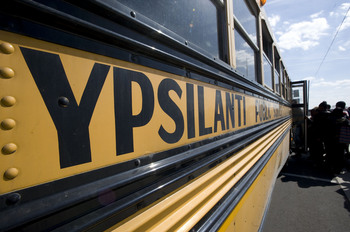 Mark Bialek | For AnnArbor.com
A
Washtenaw Intermediate School District
bus was delivering students home from an
Ypsilanti
elementary school when it was rear-ended on
Prospect Street
in Ypsilanti at about 3:40 p.m. Tuesday. WISD spokeswoman
Emma Jackson
declined to say which elementary school the students attended. She did not have details on the extent of the students' injuries.
Jackson said the total number of students on the bus at the time is still unknown, as county transportation officials still are preparing their report. Jackson said another bus was sent to pick up the students from the scene. It is not known how much of a delay the students experienced in getting home.
Police did respond to the crash, Jackson said. AnnArbor.com could not reach the Ypsilanti Police Department for comment.
Jackson said the bus had minor damage, a slight dent and some scrapping to the bumper.
Huron Valley Ambulance spokeswoman Joyce Williams said the call came in at 3:57 p.m. The second vehicle involved was a Ford Ranger truck. All students who were transported to the hospital were in stable condition.
This story will be updated as information becomes available.
Danielle Arndt covers K-12 education for AnnArbor.com. Follow her on Twitter @DanielleArndt or email her at daniellearndt@annarbor.com.