Posted on
Fri, Apr 1, 2011 : 12:30 p.m.
Five medical marijuana dispensary applications accepted Friday morning in Ypsilanti
By Juliana Keeping
Camping out to be first in line paid off for Amos Snyder and his family this morning when they were the first to turn in an application for a medical marijuana dispensary license in Ypsilanti.
Snyder and his family had been waiting in shifts since Sunday night to be first in line when the city started accepting applications at 8 a.m. today. Several others also braved several nights of freezing temperatures to be one of the first to turn in paperwork.
Members of Snyder's group said the dispensary is about securing good business for the family, but also helping patients and rejuvenating their home town.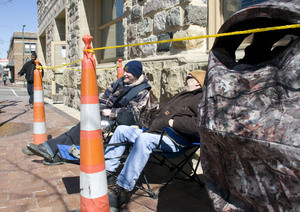 Tom Perkins | For AnnArbor.com
"We're going to help build the community," Snyder, a head custodian at Ypsilanti Public Schools, said. The family wants to open up Cross Street Services dispensary at 513 W. Cross, a space they said is sandwiched between two condemned buildings.
Now, they'll have to wait 30 to 45 days for licensing approval, said city planner Teresa Gillotti. Seven groups waited in line outside of city hall Friday morning to turn in licensing paperwork, she said, including at least one who hoped to open up a grow facility in town.
Snyder's family members said they've poured thousands of dollars into the project. They've already printed up business cards.
Submitting an application first is important because the city's new medical marijuana zoning ordinance allows dispensaries in three Ypsilanti business districts. The dispensaries have to be at least 500 feet of one another and 1,000 feet from a school. That means only two dispensaries will be permitted downtown, one in Depot Town and one in the West Cross Street business district. Marijuana growing facilities are being licensed in three commercial or manufacturing districts.
Deputy city clerk Ed Golembiewski said that by mid-morning Friday, the city had accepted five dispensary applications, rejected one for being incomplete. The city also rejected an application for a growing facility because it wasn't in a properly zoned area.
Members of other groups in line also said they wanted to help people and decried the prescription of opiate-based painkillers as being worse for patients than marijuana. Marijuana, they said, is a better solution for conditions like chronic pain.
Although Michigan residents voted to legalize medical marijuana in 2008, marijuana is also classified as a Schedule 1 substance under the Controlled Substances Act, placing it in the same category as methamphetamine, heroin, LSD and Mescalin in the eyes of the federal government. Schedule I substances are illegal, considered to have a high potential for dependency and have no accepted medical use.
That may be why members of the second group in line refused to give a name to a reporter. But a male member of that group, a "suit-wearing professional," said he turned in licensing paperwork and hopes to open up a dispensary on Ecorse Road.
Adam Tasselmyer was the third potential dispensary owner in line. He wants to open up Herbal Solutions at 124 W. Michigan Ave., just down the street from City Hall. He said he's also invested thousands to renovate a vacant downtown Ypsilanti storefront in preparation for a dispensary. He just needs to get the license, stock the store and switch on the "Open" sign.
He said he's excited to finally have a job he doesn't hate, and one that helps people.
One dispensary that's already open, 3rd Coast Compassion Center, got to submit an early application under the ordinance. It operates downtown at Hamilton and Pearl streets.
Juliana Keeping covers general assignment and health and the environment for AnnArbor.com. Reach her at julianakeeping@annarbor.com or 734-623-2528. Follow Juliana Keeping on Twitter