Posted on
Sun, Aug 11, 2013 : 2 p.m.
Ypsilanti suspends dispensary's license for 60 days following DEA raid
By Tom Perkins
The city of Ypsilanti has temporarily suspended the license of a Cross Street dispensary that was recently raided by the Drug Enforcement Agency.
The Shop, at 513 W. Cross St, was raided by the Drug Enforcement Agency on July 30, though no charges have filed against its owners.
City attorney John Barr said the suspension was a result of city inspectors finding roaches, rolling papers and loose marijuana in and around an ashtray during an inspection of the business after the raid.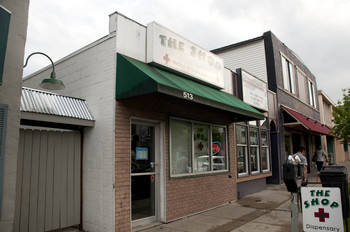 Tom Perkins | For AnnArbor.com
Per city ordinance, consumption of medical marijuana is not allowed on the premises at medical marijuana dispensaries or grow operations, which City Planner Teresa Gillotti said was to prevent a social element from developing at the businesses.
Barr said he and City Manager Ralph Lange met with The Shop's owners and their attorney on Aug. 8 and their attorney suggested the punishment.
Although the city can revoke a license for violating the terms of a city ordinance, Barr said he and Lange found the punishment appropriate. He said it was the business's first offense and there was only strong circumstantial evidence that medical marijuana was being used at the site.
"I wasn't looking for a pound of flesh," Barr said.
The Shop must remain closed for the next 60 days.
"They weren't happy, I wasn't totally happy with it, and that means it's probably a good compromise," Barr said.
This is the first time the city has discovered a violation at one of its medical marijuana dispensaries.
Representatives from The Shop couldn't immediately be reached by AnnArbor.com.
Neither the DEA nor the Ypsilanti Police Department have brought charges, and Barr said DEA officials told him their report will remain sealed for 55 days.
If the The Shop's owners are charged and convicted of an illegal activity, the city could hold another hearing and revoke their license permanently, Barr said.