Posted on
Fri, Jan 6, 2012 : 5:47 a.m.
Former EMU football player receives boot camp, two years of probation for break-in
By Kyle Feldscher
Former Eastern Michigan University football player Wilbert Mitchell will be going to boot camp and spend two years on probation for breaking into a dorm room in October.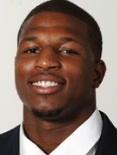 From emueagles.com
Mitchell pleaded guilty in November to one count of second-degree home invasion for breaking into a room at the Walton Residence Hall on EMU's campus and stealing some electronic equipment. Mitchell was sentenced Thursday to two years of probation under the Holmes Youthful Trainee Act and will be sent to a state boot camp program.
Mitchell is also required to pay $484.23 in restitution to the victim, along with $2,512 in costs.
According to police, Mitchell stole a computer and iPod from an unlocked room on Oct. 9.
He was originally charged with two counts of second-degree home invasion but Washtenaw County Assistant Prosecutor Brenda Taylor requested Washtenaw County Trial Court Judge David Swartz dismiss the second charge because it had been added to the case by mistake.
The Holmes Youthful Trainee Act is a law that allows convicts 19 years old or younger to plead guilty to a crime and, if probation is successfully completed, the conviction is cleared from the person's criminal record.
Mitchell was sent to the Washtenaw County Jail after the hearing while awaiting transport to boot camp.
Mitchell was a freshman defensive lineman for the Eagles before he was kicked off the team in early October for breaking team rules. While the university would not confirm that his arrest in connection with the break-in was the reason for Mitchell's dismissal from the team, it occurred on the same day Mitchell was arraigned on the charges.
Mitchell was recruited by the Eagles from Union High School in Tulsa, Okla., where he was an all-district defensive lineman in his senior season, recording 39 tackles and six sacks.
It's likely Mitchell will report to probation in Missouri — he informed Swartz on Thursday he had found a new university to attend in that state and he would be playing football there. Swartz said the court would allow Mitchell to report to probation in Missouri if the proper paperwork was filed.
Mitchell is one of two former Eagles football players who have pleaded guilty in connection with the break-in.
Jairockeis Jones, 18 of Palm Coast, Fla., pleaded guilty in November to a misdemeanor charge punishable by up to one year in prison and a $2,000 fine, along with restitution. Jones admitted to knowingly hiding the computer Mitchell stole form the dorm room.
Jones is scheduled to be sentenced by 14A District Court Chief Judge Kirk Tabbey at 9 a.m. Jan. 9 at 14A-2 District Court in Ypsilanti.
Kyle Feldscher covers cops and courts for AnnArbor.com. He can be reached at kylefeldscher@annarbor.com or you can follow him on Twitter.