Posted on
Thu, Sep 27, 2012 : 5:59 a.m.
Former top Eastern Michigan receiver among ex-football players to plead guilty to December assault
By Kyle Feldscher
Two former Eastern Michigan University football players pleaded guilty Wednesday for crimes related to their role in an attack on a university student in December.
Kinsman Thomas, 22, and Eric Jones, 23, both pleaded guilty to two counts of aggravated assault, a misdemeanor punishable by up to one year in jail and a $1,000 fine. Thomas and Jones were both originally charged with unarmed robbery and assault with intent to rob while armed. Those charges will be dismissed at sentencing.
Both Thomas and Jones played wide receiver at Eastern and Thomas led the team in receiving yards as a sophomore in 2010.
Thomas, Jones and Jalyn Massenberg, 20, have all pleaded guilty in connection with a Dec. 14 robbery near the Pease Auditorium. Police said an EMU student was walking alone at 4:40 a.m. Dec. 14 near the south side of the auditorium when he was struck from behind. A bag containing a laptop was stolen, police said.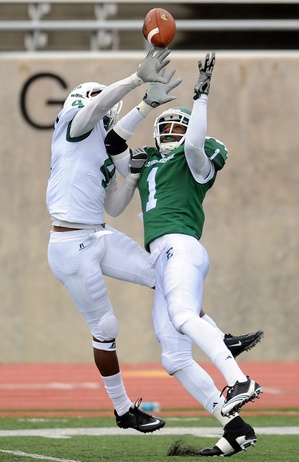 Melanie Maxwell | AnnArbor.com
Thomas led Eastern in receiving yards (473) and touchdown receptions (4) as a sophomore in 2010. He was suspended for the Eagles' first two games of the 2011 season because of what head coach
Ron English
at the time called "
violation of team rules
." Thomas saw action in six of the team's 12 games last season including the season finale.
Jones was listed as a redshirt freshman on the official EMU football team roster for the 2010 season, but did not record any statistics. Both are no longer on the team.
Records show Massenberg pleaded guilty to unarmed robbery on July 18 in exchange for prosecutors dropping a charge of assault with intent to rob. However, Massenberg did not appear for a sentencing hearing on Aug. 29 and is wanted on a bench warrant, according to court records.
Thomas, who is from McColl, S.C., said he kicked and punched a man during the attack and came to find out later the bag and laptop were stolen. Jones, from Brownstown, Mich., said he had driven Massenberg, Thomas and a fourth man whose name he said he didn't know, to the area. Jones said the three men got out of the car, attacked the EMU student, then returned and he drove them away.
Jones and Thomas are both free on bail while they wait for their sentencing hearings. Jones paid 10 percent of $15,000 to leave the Washtenaw County Jail, and Thomas was released on a $5,000 personal recognizance bond.
Thomas is due to be sentenced at 1:30 p.m. Oct. 31. Jones is scheduled to be sentenced at 1:30 p.m. Nov. 7.
Massenberg is still at large. Anyone with information on his whereabouts is encouraged to call Crime Stoppers at 1-800-SPEAK UP.
Kyle Feldscher covers cops and courts for AnnArbor.com. He can be reached at kylefeldscher@annarbor.com or you can follow him on Twitter.