Posted on
Wed, Oct 10, 2012 : 7:31 p.m.
Former EMU student sentenced to 2 years probation for campus robbery
By Kyle Feldscher
The 20-year-old man who pleaded guilty to robbing an Eastern Michigan University student of his laptop in December will serve two years of probation, according to a judge's ruling.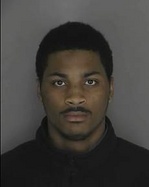 Courtesy of the Washtenaw County Sheriff's Office
Jayln Massenberg pleaded guilty to one count of unarmed robbery in connection with a Dec. 14 incident near the Pease Auditorium. According to police, an EMU student was walking alone at 4:40 a.m. that day near the south side of the auditorium when he was struck from behind. A bag containing the man's laptop was stolen.
Massenberg pleaded guilty to the charge on July 18 and was scheduled to be sentenced originally on Aug. 29. For reasons that weren't stated in open court, he missed that date and had a bench warrant out for his arrest. However, he was not in police custody when he appeared in court Wednesday and Washtenaw County Trial Court Judge Archie Brown said he accepted the reason Massenberg did not make the Aug. 29 hearing.
During a statement in court Wednesday, Massenberg said he accepted responsibility for his actions and deeply regretted the incident.
"I made a bad decision and I know it," he said. "I embarrassed myself and my family and you will never see me in this courthouse again."
Massenberg was the first of three people to plead guilty to crimes connected with the incident. Kinsman Thomas, 22, and Eric Jones, 23, both pleaded guilty on Sept. 27 to two charges each of aggravated assault and battery, misdemeanors punishable by up to one year in jail and a $1,000 fine. They will be sentenced at 1:30 p.m. Nov. 7.
Thomas and Jones are both former members of the EMU football team. Massenberg was a freshman at EMU when the crime was committed.
As a part of a plea deal, a charge of assault with intent to rob was dropped Wednesday.
As a part of his sentence, Massenberg is not allowed to have contact with Thomas or Jones. He must pay about $1,160 in court costs and fines. Brown also sentenced him to pay $1,681 in costs but said Massenberg may be allowed to do community service in lieu of paying that amount.
Massenberg told Brown he's currently working at a grocery store in Ferndale and plans on going back to school in January to continue working toward his college degree. His uncle, Kenneth Sebree, represented him and said Massenberg learned from the experience.
He said Massenberg had hung out with an unsavory crowd and learned his lesson.
"All I can do now is tell him this is what happens when you touch a stove and it's hot," Sebree said.
He later added, "I believe this whole process has opened his eyes."
Kyle Feldscher covers cops and courts for AnnArbor.com. He can be reached at kylefeldscher@annarbor.com or you can follow him on Twitter.