Posted on
Mon, Aug 19, 2013 : 5:59 a.m.
Former Speedway gas station to be demolished
By Tom Perkins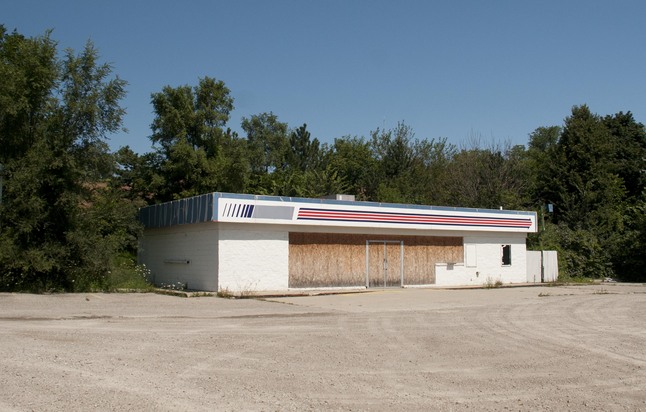 Tom Perkins | For AnnArbor.com
Editor's note: This article has been updated to reflect the fact that Speedway owned the station on the northwest corner and did not have to purchase it.
A long vacant gas station at Hewitt Road and Michigan Avenue will soon come down.
The gas station, on the intersection's northeast corner, was last operated by Speedway SuperAmerica, but in 2008 the company rebuilt the neighboring station it owns on the northwest corner.
The lot holding the Speedway on the northwest corner is much larger and the company was able to build a bigger convenience store with the pumps.
The building on the northeast corner was then boarded and put on the market, but it has failed to sell.
Ypsilanti Township Building Director Ron Fulton said part of the issue with selling the lot is that it's too small to hold a gas station with a large convenience store, which provides extra profits.
The lot is also too small for a fast food restaurant with a drive-through window.
Fulton said there has been some interest from prospective buyers throughout the past several years and there has been discussion of adjoining adjacent lots. But the property is bordered to the east by an apartment complex and to the north by a computer repair shop.
Furthermore, Speedway placed a deed restriction preventing any competing companies from opening a gas station there, though those under the Speedway umbrella can open a station.
"They have been trying to market it to no avail," Fulton said.
In early July, township officials notified Speedway SuperAmerica that the property was violating an ordinance that allows buildings to sit vacant for a maximum of 30 days. Fulton said the company immediately responded, has begun asbestos cleanup and is seeking demolition bids.
"It's another example of enforcement with a cooperative owner who is taking proactive action at no cost to the township, which is the way we like it," said Mike Radzik, director of the office of community standards.
Speedway bought the one-acre lot in 1999 for $931,000. It has an assessed value of $152,000.
There are two other Speedways locations nearby - one on East Michigan Avenue near Harris Road and the other at the intersection of Carpenter and Packard Roads. Another is at the intersection of Ellsworth and South State.