Posted on
Sat, Jun 16, 2012 : 4:26 p.m.
Former Ypsilanti Township leader William Gagnon dies at 83
By Lisa Carolin
William Gagnon, 83, died unexpectedly in Tucson, Ariz., on June 7. Gagnon was an Ypsilanti Township trustee and supervisor and worked at General Motors prior to moving to Tucson in 2003.
According to former State Representative and Ypsilanti Township Supervisor Ruth Ann Jamnick, "Mr. Gagnon (as she prefers to refer to him) had a handprint all over our community, most notably the Ypsilanti Township Civic Center's location and design."
Jamnick describes Gagnon as a great leader with a vision for the future.
"It was his vision and leadership, working with other community leadership in both the township and city that brought the Ypsilanti Community Utilities Authority into its existence," said Jamnick.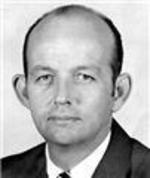 Obituary photo
Jamnick says Gagnon was a valuable mentor to her.
"He could be your strongest supporter and hardest critic," she said. "His mentoring and friendship helped some of us young elected officials find our grounding in our public service careers. 'It is never about you but about people and the community,' he would remind us."
Gagnon was the youngest of nine children and was born in Detroit. He lived in Ypsilanti for 47 years.
According to an obituary in the Tucson Newspapers, Gagnon is survived by daughters, Michelyn Girard, Shaun Gagnon and Kathleen Bennett; grandchildren Jacqueline Bammert, Miichael Girard, Marissa Bennett and sisters, nieces and nephews. He was preceded in death by wife, Evelyn Gagnon; daughter, Theresa Stout; son-in-law, Gary Stout; grandson, Blayne Stout.
Jamnick says that she stayed in touch with Gagnon during his years in Arizona and that he enjoyed talking about Arizona politics. She says that she will always remember his wonderful sense of humor.