Posted on
Sun, Jun 6, 2010 : 4:01 p.m.
Former Ypsilanti resident hungry to be "Next Food Network Star"
By AnnArbor.com Staff
When the new season of "The Next Food Network Star" debuts tonight, one of the contestants vying for the prize is Darrell (DAS) Smith, 28, who grew up in Ypsilanti and now lives in Los Angeles, the Detroit Free Press reports.
Smith, who got his nickname from his initials (his middle name is Alphonso), graduated from Ypsilanti High School in 2000, where he played football and basketball and was homecoming king. While attending college in Atlanta, he started cooking for friends and began taking food more seriously as a career path.
"That's when I transferred to culinary arts school," he says.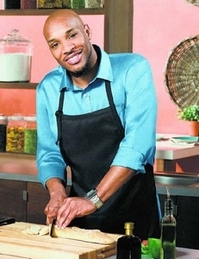 Food Network photo
Before moving to California, he worked as a cook at the Westin hotel at Detroit Metro Airport and taught culinary arts at the W.J. Maxey Boys Training School, a juvenile detention center in Whitmore Lake, which he calls "one of my most inspirational jobs to this day." He also started his own catering company.
"I have to keep busy," he says, describing how he knew as a young teen that he wanted to be an entrepreneur.
In 2006, Smith moved to the West Coast to see what opportunities were there. "I literally had about six to seven hundred dollars in my bank account and a carload full of everything that I owned and a résumé," he recalls.
He heard about a casting call for "The Next Food Network Star" from one of the chefs at the Sofitel in Los Angeles. "I've always had a lotta, lotta personality, and I think a lot of people know that about me," he says.
He says his "new-style American cuisine" is all about old dishes with a new twist. And he believes in the power of food to change moods for the better.
"You can't have a bad day when you're eating good," he says. "Everybody loves to eat."
As Smith puts it, "Food rules the world."
Read the whole story here.