Posted on
Sat, Dec 4, 2010 : 12:40 p.m.
New local art shows launched in the Shadow Art Fair's absence
By Tom Perkins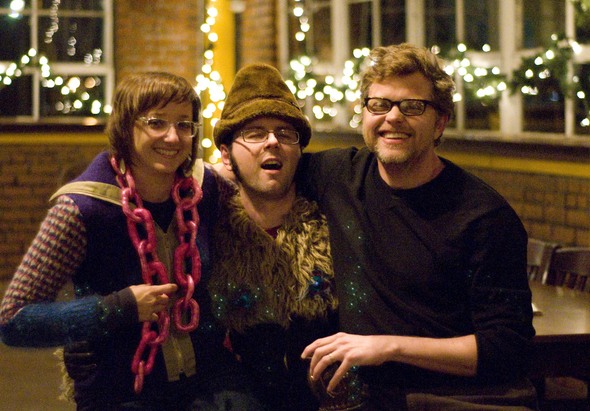 Tom Perkins | For AnnArbor.com
When rumors surfaced that the Shadow Art Fair wouldn't be holding its December show, a wave of panic briefly swept across the blogosphere and through the Ann Arbor/Ypsilanti art community.
Would the area's artists, crafters and hipsters really be forced to do their holiday shopping at the mall?
But through the efforts of several area artists and Shadow veterans who have established their own shows, there will be plenty of options for picking up unique, locally holiday gifts. By the time Shadow's organizers, the Michigan Design Militia, made the announcement they were instead organizing a costume ball celebrating Saint Nicholas's "dark assistant", Krampus, three other art fairs were in the works.
Two of the new fairs are based in Ypsilanti while Ann Arbor's Kerrytown will host another. If Shadow returns next year, it could mean five art fairs during the holiday season (Art in the Park was held at the Senior Citizens Center in November), and organizers all say that's a positive development.
But Shadow founder Mark Maynard says the Design Militia isn't thinking about next year quite yet. Simply put, the group needed a break from organizing the bi-annual show, which had evolved into a multi-faceted, multi-venue affair.
Beyond their vendors' 40 tables at the Corner Brewery, the group must consider the logistics of arranging live music at two venues, holding a poster competition, providing the Shadow grant program, discussing the show at various art schools and much more. None of the organizers' time is devoted to their own tables any longer due to the workload.
When the December show concluded, it was time to start organizing the July event, and vice versa.
"It's just kind of a never ending treadmill, but we like what we've done and I'm encouraged to see others jumped in to do similar stuff —I think that's super positive," Maynard said.
But the Design Militia's idea of taking a break from organizing a multi-venue art fair involves organizing what will likely be a well-attended, multi-venue "glam, sci-fi monster dance party" on Dec. 11. The Krampus Ball starts at the Corner Brewery, 720 Norris St., and marches over to Woodruff's restaurant, 36 E. Cross St., at some point during the evening, and it's unlikely that there are many remotely similar holiday parties.
The Corner Brewery will still see one art fair. The Ann Arbor Derby Dimes' Whipstitch Art and Craft Fair runs from 2 to 10 p.m. on Sunday. Shoppers will find soaps, jewelry, clothing, paintings, stained glass, a cake decorator, hand crocheted items and more from 22 local vendors.
Organizer Tonya O'Neill said many of the women from the roller derby league are also crafters, and several previously had tables at Shadow. Holding their own fair came as a natural idea for fundraising, and organizers figured there were enough artists in the area for two shows. Even more artists became available when Shadow became the Krampus Ball.
"This was planned before Shadow decided to do Krampus, so it worked out well," O'Neill said. "It started out as an idea as a fundraiser for the league because there are a lot of artists and crafters and we're big into that and supporting the local folks."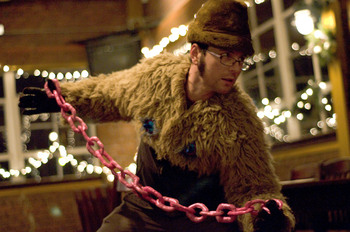 Tom Perkins | For AnnArbor.com
Aside from benefiting the roller derby league, a portion of the proceeds will go to the FLY Art Center, which will have a table set up at the fair.
Also in Ypsilanti is the DIYpsi (officially pronounced Dip-See) art fair. Organizer Sherri Green Carroll also previously sold her work at Shadow, and she and some friends discussed putting on their own fair for several years. When Shadow turned into Krampus, they decided to act.
DIYpsi vendors will offer jewelry, apparel, paintings, locally made baked goods and treats, screen prints, soaps, bags, purses, wallets and stationary among many other items.
Originally scheduled to run from 11 a.m. to 7 p.m. on Dec.11 at Savoy, the show was left in limbo after Savoy was recently shut down. When Woodruff's subsequently opened at 36 East Cross Street, the fair moved there, although the switch presented a fresh set of challenges.
Still, Green Carroll said she and the other organizers have hustled to get the word out and are proud they were able to successfully move within two weeks of the show.
"I think everyone is going to have to sacrifice and compromise, but this unfortunate event is helping put the "DIY" in DIYpsi," she said. "We're doing everything we can to have a show and it is working out."
DIYPsi organizers are donating their proceeds to a friend sick with cancer, Green Carroll said.
The DIYpsi crew originally planned to host a fair with several friends in Ann Arbor, but that split into two events when both groups wanted shows in their respective hometowns.
Thus, Helen Gotlib and her boyfriend Dylan Strzynski, who make their living traveling the art fair circuit nationally, got together with two other friends to form the Tiny Expo.
The show runs from 11 am. to 8 p.m. Dec. 11 at 325 and 327 Braun Court in Ann Arbor's Kerrytown. Gotlib said they mostly invited vendors they knew who could help provide an affordable, alternative to the Ann Arbor Art Fair. The 23 artists there will offer ceramics, silkscreen prints, T-shirts, handmade jewelry, ornaments, fine art drawings and etchings, mixed media artwork and much more.
Having more fairs also means more options for artists, but several said they simply chose the first event they heard about, be it by flyer, word of mouth or online. Jessy Butts, an Ypsilanti-based artist who previously sold her work at the Shadow, said she chose Whipstich because a friend recommended she look into it.
"It was the first one that I heard about. I wasn't even aware of the Tiny Expo," she said, adding that she likes selling in Ypsilanti at the Corner Brewery.
All the fairs' directors expressed an interest in continuing their shows next year.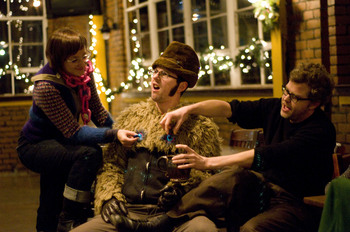 Tom Perkins | For AnnArbor.com
But none of the organizers are concerned about competition. The Shadow Art Fair has received up to 150 applications for approximately 60 spots — 35 to 40 tables — available at the show. Gotlib said she liked having more choices for vendors and artists.
"There's way more than 30 or 40 artists in Ann Arbor or Ypsilanti that would be interested, so I think really it gives people a lot more opportunity," she said. "The more diversity, the better."
Green Carroll felt the same.
"I think a big part of the independent artist community is to have as many options as possible," she said. "The creative community is growing and we want to see it spread. The more people that do it, the more people that are putting on shows, then the more new artists that get into shows."
Maynard said the Shadow Art Fair will definitely happen in July, and if the Design Militia decides to hold it in December, he isn't too concerned about competition. Shadow is trying to attract unconventional vendors who wouldn't normally find themselves in an art fair setting. That differentiates Shadow from traditional shows, and some of those who might not find a spot there could find a home at one of the other fairs.
Either way Maynard said it's gratifying that organizers were able to prove a market for such a fair exists. And he's curious to see if a market for a monster holiday costume party also exists.
"We're just trying to have fun and get a bunch of weird people, doing interesting stuff," he said. "The format doesn't matter to us, if it's an art fair great, if it's this other thing, great."