Posted on
Mon, Aug 5, 2013 : 5:57 a.m.
Stewart Beal helps start free bike sharing program in Ypsilanti
By Tom Perkins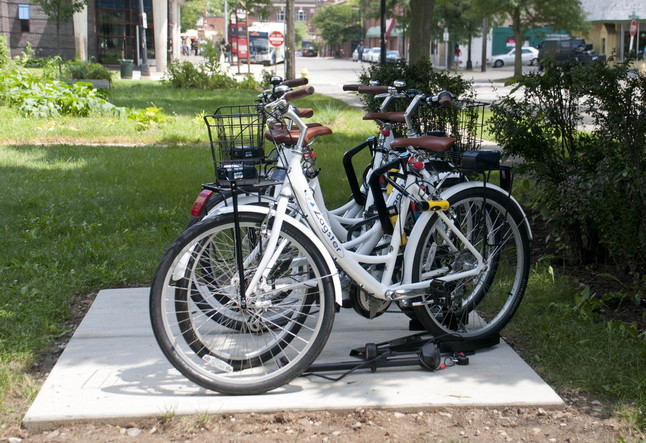 Tom Perkins | For AnnArbor.com
Ypsilanti developer and Beal Properties owner Stewart Beal has launched a free bike-sharing program for his tenants and Ypsilanti's residents.
The program is a partnership with Zagster, a Cambridge, MA-based bike-sharing company that specializes in partnering with property owners, hotels and universities to provide bike sharing programs.
As of this week, four bikes are available at a Beal property at 103 N. Adams St., which Beal said was chosen for its close proximity to the Ypsilanti Transit Center. A second group will be installed at 107 E. Cross St. behind the Thompson Block when its parking lot is built sometime in 2014.
"It's a nice amenity to have," Beal said. "Some properties have a washer and dryer, some have wireless internet and now this property and properties within walking distance can also have free bike sharing,"
Beal is also discussing partnering with the Ypsilanti Downtown Development Authority to help fund more bike sharing racks throughout the city.
In Ypsilanti, Beal owns 30 properties and manages 10 more that 200 residents call home.
A resident wishing to use a bike must first join Zagster at Zagster.com. Each bike contains a bike lock with a key stored inside a lock box. A rider texts "start" plus the bike number to a phone number provided by Zagster. Zagster then texts back the access code for the lock.
That reserves the bike until the end of the day or when the bike is returned. But riders must provide a credit card number and are responsible if the bike is lost or stolen.
Ypsilanti residents can also take part in the program by signing up through the Beal Properties Facebook page.
Bike sharing has been growing in popularity. According to a Zagster press release, there are now over 500,000 bike share bikes available worldwide and programs in 49 countries.
Beal said Zagster approached him about installing a rack at the Broderick Tower in Detroit, which the Beal family partially owns. Zagster recently launched a larger bike share program in Detroit for employees of Dan Gilbert-owned companies.
"I became fascinated with the company and decided to check it out in Ypsilanti on a small scale before doing it in Detroit," he said. "I'm a big fan of car sharing and bike sharing and Ypsilanti had neither."