Posted on
Thu, Apr 25, 2013 : 5:58 a.m.
GM Willow Run plant proposal: $919M Detroit Aerotropolis 'super hydrogen' rail system
By Katrease Stafford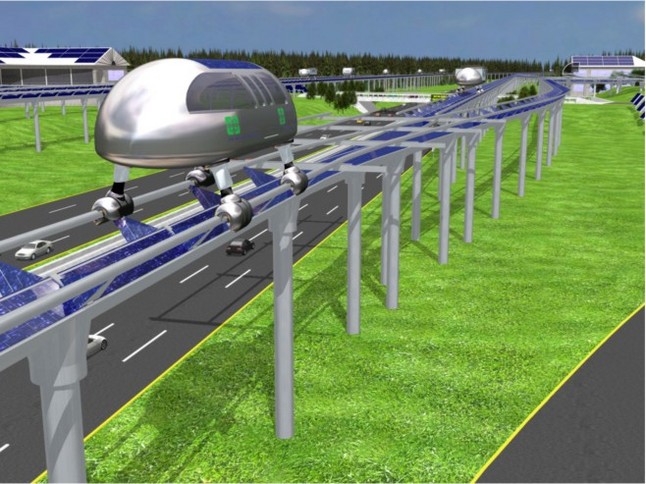 Courtesy Justin Sutton
A proposal to create a $919 million Detroit Aerotropolis 60-mile rail system that would connect the Willow Run Airport to the Detroit Metro Airport is in the works, according to Justin Sutton, founder and managing partner of The Interstate Traveler Company.
Sutton said all of the manufacturing for the rail system, including production of the rail cars, would be done on site at GM's former 5-million-square-foot Willow Run Powertrain Plant facility in Ypsilanti Township. Sutton estimates that about $100 million will be spent on production equipment alone for the facility.
"Everyone seems to be ready to move ahead," Sutton said. "I have significant financial backing. We've always seen the Willow Run Assembly plant as an ideal place to begin."
Sutton said he would likely purchase the majority of the 5-million-square-foot former Powertrain facility.
The proposal comes shortly after it was announced the Yankee Air Museum has launched a $6 million campaign to buy the bomber plant — a 175,000-square-foot piece of the overall Powertrain property. Its operations now are in a 47,000-square-foot facility on the east side of Willow Run Airport.
"There's a lot of people that have interest," said Ypsilanti Township Supervisor Brenda Stumbo. "That's (Sutton's project) one of three viable options that I know are under consideration by RACER Trust."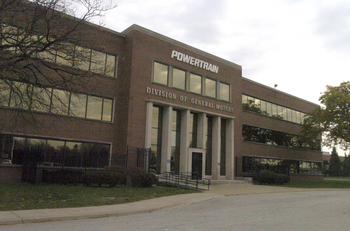 It's not immediately clear how the Yankee Air proposal would factor into Sutton's, who said he supports the idea of the museum moving to the bomber plant.
Sutton said the "super hydrogen" system would be a magnetically levitated, high-speed rail system suspended 30 feet above the ground. The system would be propelled by solar power stored by hydrogen.
The system would be the first of its kind with a distribution system supporting an on-demand public transit network built along the right of way of the U.S. Interstate Highway Systems, according to Sutton.
The rail system would be able to be utilized by pedestrians, as well as for freight purposes.
The rail system would create 2,385 direct jobs in hospitality and concierge services. Those individuals would staff the rail cars.
Sutton said hundreds of jobs would be created at the manufacturing facility, although the exact number is not yet known.
Sutton will also be proposing a Detroit to Ann Arbor project that is expected to cost an additional $700 million and will create at least 4,765 jobs.
Sutton said these projects would be funded by "domestic sources," although he did not specify who.
"We'll need pretty much the entire building," Sutton said. "The building is fully operational and there's not much that needs to be done to the property. The building rail will be done in the old building."
Sutton said the rail vehicles would be constructed at the Willow Run facility as well.
"Actual jobs created in construction and related supply chain will be quite large," Sutton said. "The manufacturing jobs we are proposing for Willow Run will likely become stable long-term employment opportunities for the next 50 years or longer."
Estimated revenue and usage
Sutton said total annual revenue for the project is estimated to exceed $1.3 billion
Pedestrian total projected use daily: 209,088
Pedestrian total projected use hourly: 8,712
Pedestrian total projected revenue daily, $2.5 million
Pedestrian total projected use annually: More than 76 million
Return on investment in years including startup time: 2.46 years
Number of car transports: 33
Passengers per car: 60 people
Average time of trip for pedestrian: 12 minutes
Number of freight cars: 131
Freight transports total projected use annually: 62.6 million tons
Cost per kilometer to construct system: $9.2 million
In an email to Detroit Aerotropolis Director Bryce Kelley, Sutton wrote that his company has "immediate access to capital" for the Detroit Aerotropolis project.
"The current version of the cost proposal for the first 60 miles is $919 million or about $14 million per mile, subject to our mutual efforts to design the best possible system for Detroit Aerotropolis as we move forward to build and expand the system," Sutton wrote.
Sutton said if he were able to reach an agreement with the Revitalizing Auto Communities Environmental Response Trust, the authority formed in the wake of GM's bankruptcy in 2010 to market 89 GM holdings across the country, he would not tear down the property.
However, RACER Trust told AnnArbor.com Tuesday that demolition is now a redevelopment option.
"There's a couple things wrong with tearing the building down," Sutton said. "It's a historical landmark and the building is full of asbestos installation. The EPA said it's not really a good idea to tear this stuff out. To demolish the Willow Run facility, it would be incredibly expensive."
Emails obtained by AnnArbor.com, show Sutton has been in touch with Stumbo and RACER redevelopment Manager Bruce Rasher, to outline some of his plans, which would include mass production of rail and transports and assembly line equipment that would be shipped internationally.
"This equipment will be set up to manufacture rail and transport components in at least 50 factories around the world in the next 10 years for both elevated and at-grade magleve systems," Sutton wrote.
When reached for comment, Kelley said it was too premature for him to discuss the proposal.
Rasher declined to say whether RACER has been in communications with Sutton about purchasing the property, citing confidentiality agreements.
"I have entered into a confidentiality agreement with close to 50 separate parties," Rasher said. "I'm unable to even confirm if this is a party I have spoken with."
Although Rasher is unable to confirm what companies or entities RACER has spoken with, he said all proposals are vetted based off of a series of criteria, such as whether the buyer is reputable and if it will revitalize and bring jobs to the community.
"To date, we have not received a proposal from any part that even comes close to satisfying all of that criteria," Rasher said.
However, Rasher said RACER is in the process of having detailed discussions with one particular party. Rasher said there are several ongoing discussions with possible entities and developers, but one is "clearly ahead of the pack."
"The party that we're having detailed discussions with seems to show the most promise," Rasher said.
Mark Perry, president of the Ann Arbor-based Perry & Co. consulting company, has also been in touch with Sutton.
"Yes, I have talked to Justin, but within the context of referring him to RACER Trust and what the acquisition procedure is," Perry said. "I believe he's been in touch with Bruce Rasher. That's been the limit of my conversations with Justin."
Perry said he has some limited knowledge of Sutton's plans, but said it's not the township's role to become involved at this point.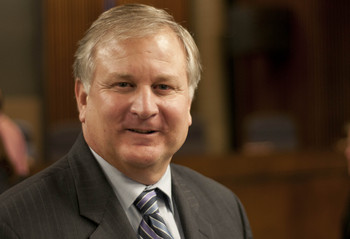 Tom Perkins | For AnnArbor.com
"I don't even want to speculate on that because I don't know what the full details are... and what support may be needed from all levels of government," Perry said.
"I don't know if the proposed use is within the zoning. Those are all details that have to be worked out. It would be inappropriate for me or the township to get in between the buyer and the seller. Once RACER Trust is ready to bring a potential buyer to the township, that's when we would get involved."
Sutton said in addition to local officials, he's reached out to UAW officials, with a focus on the Local 735, that previously operated the labor management for the plant.
"We've offered the UAW the opportunity to provide the union services for our workers," Sutton said.
Sutton said his project has support from State Rep. Bill Rogers, R-Brighton, who co-chaired a bipartisan task force in 2009 to present to the legislature about the company. In 2003, the Michigan House and Senate recommended that Interstate Traveler Co.'s system receive federal funding, but it never materialized.
Despite the support, The Ann Arbor News reported in 2009 that local officials were skeptical at the time that the idea could work. Sutton first proposed the Ann Arbor to Detroit line years ago, but conversations really began to take off in 2009.
"I really admire the energy and the enthusiasm of a proposal like this because our transportation system needs a lot of help," Joe Grengs, a University of Michigan urban planning assistant professor, told the News.
However, Grengs said a project like this wasn't feasible, as the cost of constructing a new rail system was far too expensive.
Stumbo is cautiously optimistic about the project.
"The good news is there is finally some economic interest in the redevelopment for that plant, but what I have learned is you get a lot of people calling," Stumbo said. "I used to get excited at every phone call, but I have learned that you have to be patient...
"It sounds like it's a great idea, but RACER Trust has to vet them. They're required to look at the financial stability, the job creation, which I think this one absolutely meets, but it's up to RACER Trust to vet them and once they get a letter of intent, they will meet with us and say to us, 'is this a company your community would be interested in?' "
Katrease Stafford covers Ypsilanti for AnnArbor.com.Reach her at katreasestafford@annarbor.com or 734-623-2548 and follow her on twitter.