Posted on
Tue, Apr 2, 2013 : 12:02 p.m.
GM Willow Run plant redevelopment: Aircraft maintenance firm buys 1 building
By Katrease Stafford
The International Turbine Industries, an aircraft maintenance firm, has purchased the former General Motors Willow Run Company Vehicle Operations facility, RACER Trust announced Tuesday.
ITI will use the property to expand its jet engine repair and parts sales business. The purchase will create 25 new jobs over the next five years and the company plans to invest $50,000 in repairs and improvements to the building. The company currently has 10 employees.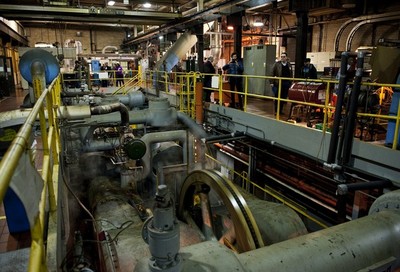 Daniel Brenner | AnnArbor.com
The purchase price amount was not immediately available.
The Company Vehicle Operations property at 2901 Tyler Road consists of a 23,000-square-foot facility on 22 acres of property that was once part of the GM Willow Run complex. The property is across the street from ITI's existing facility at 2890 Tyler Road. The remainder of GM's former holdings at Willow Run, consisting of more than 300 acres and a 5-million-square-foot manufacturingbuilding, remain for sale. ITI purchased the Company Vehicle Operations property from RACER Trust, which, on March 31, 2011, took control of 89 abandoned GM properties, 56 of which were in Michigan. The trust was charged with selling, repositioning and cleaning up all the sites, including the Willow Run plant. RACER Trust is marketing parts of the plant separately:
The Company Vehicle Operations facility, now under contract with ITI
The Engineering Center: An office building attached to the main plant
The Powertrain Plant: 5 million square feet of manufacturing space
The new jobs ITI is creating will range from laborers to skilled aircraft engineer technicians.
ITI owner Mark Andrews said in a statement he considered expanding his operations to another state, but decided to stay in Michigan because he wanted to give his employees the opportunity to continue living in Michigan without searching for new jobs.
Andrews founded the company in 2009 with his wife, Rhonda.
"I can't wait to raise the flag across the street again," Andrews said."RACER offered me an affordable opportunity to invest close to home, in an area we know very well, and I'm very excited not just for Rhonda and me, but also for the people we work with now and those who will be joining our team in the near future."
ITI specializes in engine repair, overhaul and inspection on TFE731, JT15D and other aircrafts and will soon specialize in CF34 engines for corporate and other private jets.
"I'm very pleased and proud that ITI decided not only to stay in Michigan, but to expand here and bring 25 new jobs to our community," said Brenda Stumbo, Ypsilanti Township Supervisor. "ITI had other options, and the fact the company chose to invest and grow here is great news. I thank Mark and Rhonda Andrews for their confidence in our local workforce and the RACER Trust for working collaboratively with ITI and Ypsilanti Township to make this deal possible."
The Willow Run property is adjacent to Willow Run Airport. GM stopped production at the facility in 2010.
The news of the purchase comes days after RACER Trust told AnnArbor.com it was fielding "several discussions" with potential purchases of the property. According to the company's marketing brochure, the total assessed value for the manufacturing building is $16,284,900, making its market value more than $32 million.

View Willow Run Airport in a larger map
Katrease Stafford covers Ypsilanti for AnnArbor.com.Reach her at katreasestafford@annarbor.com or 734-623-2548 and follow her on twitter.