Posted on
Tue, Nov 13, 2012 : 1:02 p.m.
Eastern Michigan University grads to don gowns made from recycled plastic bottles
By Kellie Woodhouse
Eastern Michigan University students will give a whole new meaning to "Go Green!" as they walk across the graduation stage in December.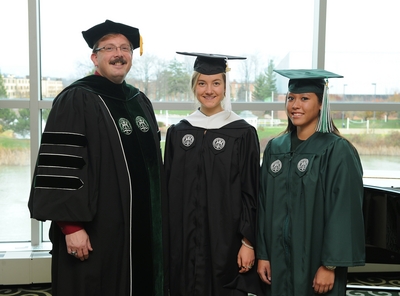 AP Photo/Eastern Michigan University, Randy Mascharka
Students who graduate this winter will wear green gowns fashioned out of 23 recycled plastic bottles.
According to EMU, 2,000 students are eligible to walk across the stage in an upcoming Dec. 16 ceremony at EMU's Convocation Center.
Don't worry, the gowns don't crinkle like they're made from ... plastic bottles. The fabric, according to an EMU release, "feels like soft polyester."
And it's not just the fabric that's environmentally friendly: even the tack that fastens a button to the graduation caps is made from recycled metal.
Only the tassel and the gown's zipper can't be recycled.
EMU first debuted environmentally friendly regalia for the April 2011 commencement. This year undergraduates, who were formerly clad in black, will walk down the aisle in dark green caps and robes. The gowns are available at the EMU campus bookstore.
Virginia-based manufacturer Oak Hall distributes the gowns. For every 1,000 students who walk in the recycled regalia, Oak Hall estimates that 23,000 plastic bottles are kept from landfills.
Kellie Woodhouse covers higher education for AnnArbor.com. Reach her at kelliewoodhouse@annarbor.com or 734-623-4602 and follow her on twitter.