Posted on
Sun, Feb 3, 2013 : 12:46 p.m.
Great Day Gourmet Brownies to open in Ypsilanti
By Katrease Stafford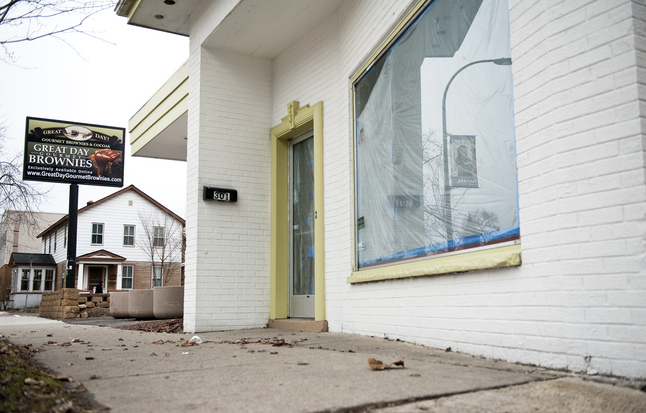 Daniel Brenner | AnnArbor.com
A new Ypsilanti business, Great Day Gourmet Brownies, is slated to open in February after its opening date was pushed back several times.
Owner J. Doyle said the brownie shop, 301 W. Cross St. will open in February, but he has not set a specific opening date.
"We took over that building in September a year ago and put a bunch of money and time and energy in there," Doyle said. "We were getting ready to open Nov. 22 and we had a power surge the day before opening that fried all of our equipment."
Doyle said he put a claim in with DTE Energy to recoup some of the loss, but the process took months before he was able to move forward with the opening since he had to purchase all new appliances.
Doyle is a chef and has been in the restaurant business for years. He and his wife moved to the Ypsilanti area from Florida shortly after the economic downturn.
"It's a nice little niche market," Doyle said. "I was going to open a kiosk in the mall, but I wanted everything to be fresh. I didn't want to do another restaurant either. I love Ypsilanti and it's one of the best towns I've seen."
Daniel Brenner | AnnArbor.com
Doyle developed multiple recipes and decided to open a store after receiving inquiries about the brownies.
"I get probably 50 calls a week yelling to open that store," Doyle said. "My brownies are outrageous and we make about 20 flavors of brownies and 20 frostings."
Ypsilanti business owner Mike Eller purchased the building for $139,900 in 2001. The building's assessed value is $39,000. Toarmina's Pizza was previously housed at the location.
Ypsilanti Downtown Development Authority Director Tim Colbeck said the location has been vacant for the past two and half years. Years ago, the building served as one of the original Domino's Pizza locations, he added.
Doyle and his wife will run the business together. They have hired someone to do the bulk of the baking for them, as well as a manager.
"... It's amazing to me that there's so much opportunity here," Doyle said. "Ypsilanti is a place that's sort of a sleeping opportunity."
Katrease Stafford covers Ypsilanti for AnnArbor.com.Reach her at katreasestafford@annarbor.com or 734-623-2548 and follow her on twitter.