Posted on
Thu, Apr 18, 2013 : 5:58 a.m.
Growing Hope to operate Depot Town Farmers' Market as season kickoff nears
By Katrease Stafford
Ypsilanti nonprofit Growing Hope will now be in charge of the Depot Town Farmers' Market, which is nearing its May opening date.
Growing Hope Executive Director Amanda Edmonds said the switch in ownership follows several months of negotiations with the various owners who had a stake in the market, including the Friends of the Freighthouse.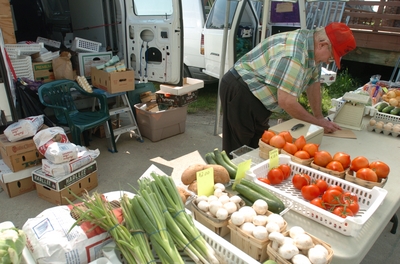 AnnArbor.com file photo
Edmonds said the deal was finalized about two months ago and the market is set to have its spring opening Saturday, May 4.
Growing Hope already manages the Downtown Ypsilanti Farmers' Market, which will open Tuesday, May 7.
In addition to recently taking over the Depot Town market, Edmonds said Growing Hope has been contracted to run the city of Wayne's farmers market, as well as the Westland market.
Edmonds said Growing Hope has hired three additional people to help run the markets, bringing the market staff total to five now.
A few weeks ago, a vendor orientation was held at Spark East and more than 60 individuals came.
"I was really excited by how many new vendors there are," Edmonds said.
The downtown market has "grown significantly," Edmonds said.
In 2012, Growing Hope had $148,000 in total sales from the downtown market, a 35 percent growth from the previous year. According to Growing Hope, the 2012 downtown market had a total economic impact of $762,078 on the Ypsilanti community.
The organization hopes to grow the Depot Town market, as well.
"We continue to see sort of unprecedented growth every year at the downtown market," Edmonds said. "The Depot Town Market has been doing fine, but we're excited to help build up the longtime history of the market."
More than $50,000 worth of food was purchased using food stamps and other food assistance, accounting for more than 34 percent of all of the market's sales. The downtown market was the third in Michigan to accept food stamps.
"It's important because having healthy food is a basic human right, but it's not something everyone has," Edmonds said. "To bring these options out into the middle of the community just brings a whole other opportunity (to people.) Using food and local agriculture is an opportunity for economic revitalization."
Both markets will run from May through the end of October. The downtown market will be held from 2 to 6 p.m. on Tuesdays at Ferris Street and Hamilton Street. The Depot Town Market will be from 9 a.m. to 1 p.m. Saturdays at 100 Rice St.
Katrease Stafford covers Ypsilanti for AnnArbor.com.Reach her at katreasestafford@annarbor.com or 734-623-2548 and follow her on twitter.