Posted on
Wed, Apr 17, 2013 : 3:12 p.m.
Growing Hope tops $20K fundraising goal for new raised-bed garden program
By Katrease Stafford
Ypsilanti nonprofit Growing Hope has exceeded its $20,000 fundraising campaign goal to fund its new program Fueled by Veggies and create a sustainable revenue model.
Growing Hope launched the Kickstarter fundraiser March 8 and as of 2 p.m. Wednesday, $20,437 has been raised. Five days are left in the campaign and the organization will continue to accept donations up until the deadline.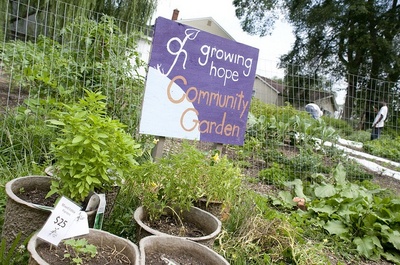 Tom Perkins | For AnnArbor.com
Amanda Edmonds, executive director, said she's thrilled with the number of people who have contributed to the campaign.
"We've felt an amazing amount of support from the community and had a great combination of longtime Growing Hope supporters and many who are brand new to us," Edmonds said."It's affirming to know that our communities near and far are invested in us and invested in the work we do."
Growing Hope set a 4 p.m. April 22 deadline on the campaign that also happens to coincide with Earth Day. Tuesday afternoon, the campaign had raised $13,104 and still had a few more thousands to raise, but Edmonds said a few last-minute gifts pushed the fundraiser over its goal Wednesday afternoon.
The organization has installed 170 above-ground, raised-bed vegetable gardens for low and no-income families. For the first time, Growing Hope wants to offer similar garden installation services for pay to the general public, as well as other services.
Edmonds said the funds will allow the organization to make a fundamental shift in how it runs, by generating sustainable revenue to help the local community grow without being dependent on sources like grants.
Edmonds said Growing Hope is going to convert a diesel pickup truck to run on waste vegetable oil and seek out local storage and shop space for supplies, as well.
The funds will be used to support the truck conversion and build out the waste, veggie oil filtering and storage systems.
The money would also allow Growing Hope to install veggie gardens for free for 20 low-income families and build 40 more grow light stands and seed starter kits. The seed kits will be "adopted" by 100 households in the Seed Starting Squad, who grow more than 8,000 seedlings for Growing Hope.
"For this campaign, what we're really excited about is what it represents," Edmonds said. "For us we're just trying to switch into a more sustainable model. How do we create a revenue stream to help do what we do in the community? If we can also be able to sustain infrastructure of the truck and that kind of thing, then that in itself is what we're trying to do. We're trying to sustain and grow our work financially. That's really what it's all about."
Click here to donate to the campaign.
See the video below created by Growing Hope for its Kickstarter campaign:
Katrease Stafford covers Ypsilanti for AnnArbor.com.Reach her at katreasestafford@annarbor.com or 734-623-2548 and follow her on twitter.