Posted on
Sun, Aug 15, 2010 : 12:30 p.m.
Growing Hope greens Ypsilanti, one seed at a time
By Tom Perkins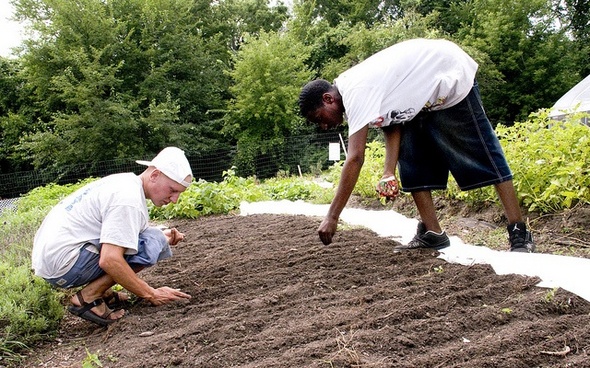 Tom Perkins | For AnnArbor.com
You could say Roy Finny and Growing Hope have grown up together.
Six years ago, the Ypsilanti teen discovered the then-fledgling non-profit organization when representatives came to his science class to do a demonstration on growing plants in a bottle. With his enthusiasm for the program evident, he became manager of Growing Hope's West Middle School garden.
Finny joined on as a summer youth volunteer while in high school, just as Growing Hope began significantly expanding into the community. In 2006, his family moved out of their home on a 1.4-acre lot just west of downtown. The Growing Hope family bought the home and moved in soon after.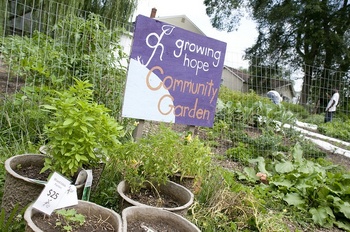 Tom Perkins | For AnnArbor.com
Finny is now a paid farm supervisor on the non-profit's land and college-bound this fall. Growing Hope, once involved largely in Ypsilanti Public Schools, has evolved into something much more. Its volunteers number well into the hundreds and the organization maintains a budget of $300,000 built from scratch.
The non-profit offers multiple programs and partnerships for kids and adults aimed at helping empower community members "to grow and eat healthy food, and take control of their physical, emotional and financial well-being".
The Growing Hope center and farm is on the 1.4-acre Michigan Avenue parcel where Finney used to live. Among its features are a large outdoor community garden, adobe oven and a 30-by-96-foot hoophouse. The hoophouse, which is similar to a greenhouse but with raised garden beds, requires no heat and is capable of producing food 10 months a year for local vendors like the Ypsilanti Food Co-Op.
Growing Hope's founder and executive director, Amanda Edmonds, noted that one 4-foot-by-4-foot raised bed in the hoophouse can grow 58 pounds of tomatoes annually, equating to roughly $358 in revenue.
"That's one of the things were trying to do is show that in a very small space, the nutritional and economic impact is significant," Edmonds said. "We want to showcase in a post-auto community how we can move to the next generation through the greening of our community … it's the rebirth of the rustbelt."
Urban agriculture is still a relatively new concept, but it's a practice gaining momentum in southeast Michigan. Edmonds pointed out that agriculture is one of top three largest industries in Michigan, and that the state is second in agricultural diversity behind California.
Gaining recognition of urban agriculture and its potential beyond "a nice pastime" is one of the challenges Growing Hope has encountered, especially when it comes to the role it could play in green jobs. Edmonds said green jobs are typically imagined as "high tech and batteries for cars."
"Urban agriculture has been underrepresented in the green jobs, but it's one of the greatest opportunities in Michigan," she said. "We have this chance to bring it into the fold as a core part of the green economy. It's such a simple solution to a myriad of challenges."
Edmonds said the Growing Hope center seeks to demonstrate the possibilities of urban agriculture. But before there was a center addressing broader challenges, Growing Hope solely worked with youths at the Perry Child Development Center in 2003.
With the aid of the Creative Change Educational Solutions, it expanded within the district. Now, an estimated 500 area children participate in the organization's youth programs, including youth internships, youth volunteering, an entrepreneurship program and West Willow Summer Camp.
Shadi Mohammed was an East Middle School student who took part in the Seed2Plate club, which provides students with the chance to work in a garden or greenhouse and cook the food they grow in the kitchen. The idea is for kids to discover the connection between growing food and healthy eating in a hands-on manner.
When the Growing Hope staff followed up with the Shadi's family, they were pleased to learn of the program;s impact on their dinner table. According to Mohammed's mother, Nadeer Mohammed, eating patterns around the house changed after Shadi took part in Seed2Plate.
Tom Perkins | For AnnArbor.com
"She got everybody eating extra healthy and eating a lot more vegetables, especially fresh vegetables, than we were eating," Nadeer Mohammed said. She added that the family bought several cookbooks to learn to cook with unfamiliar foods and herbs. Meat consumption in the house dropped significantly.
"It's easy to get caught up in all of the nuts and bolts and fundraising and managing, etc, it takes to run a nonprofit that's gotten fairly complex. When I hear something like that, it makes it all very simple again, and makes all the effort worth it," Edmonds said.
The opening of the Downtown Ypsilanti Farmer's Market in 2006 marked a major point in the organization's growth. It also provided an addition to its mission statement.
"That represented us looking beyond the growing and expanding to providing access to healthy food," Edmonds recalled, noting that the downtown location makes it visible to a large portion of the community and "shows how a farmers market can be part of a revitalization of downtown."
An estimated 600 customers visit the market each week, and $21,000, or 20 percent, of its 2009 sales came from foodstamp and low-income assistance programs. That keeps the program on target with its aim of providing accessible food to low-income residents.
"It's a win-win for the market and low-income residents," Edmonds said.
Social outreach and providing help to low-income residents has become a large component of Growing Hope, but Edmonds said its programs are designed not to simply give food away. Instead, residents are taught how to grow their own food and make healthy eating choices on a tight budget.
More than 80 families received free raised beds filled with compost and plants in 2009, yielding $188 worth of food for the top growing home. Residents are asked to track and weigh their harvests, providing data on how small-plot gardens affected their food security.
"It's about providing resources for people to provide themselves," Edmonds says.
Growing Hope's positive impact on the community hasn't gone unnoticed. Edmonds says the organization's efforts have brought out more volunteers than she can count now, and there has been at least one new person looking to help every day since a new website launched in March.
The center has also had plenty of in-kind contributions, and an architect, planning team and project team all donated their labor on the center.
"We've done a lot with a little, which we pride ourselves on. We've had a sizeable impact with little resources," Edmonds said. But she added that Growing Hope still has a long way to go before it realizes its dream, and it is still actively putting out the call for volunteers, in-kind contributions and funding.
So far, those involved with Growing Hope have called their experience rich.
"I grew a lot and Amanda taught me a lot - she was my mentor," Finny said. "I'm still learning, even after five years with Growing Hope.