Posted on
Tue, Jul 16, 2013 : 7:26 p.m.
Haab's restaurant wins 'must-see foodie destination' title in QVC competition
By Chelsea Hoedl
Ypsilanti's historic Haab's restaurant was announced Sunday as being the winner of the June Road Trip Contest put on by "In the Kitchen with David".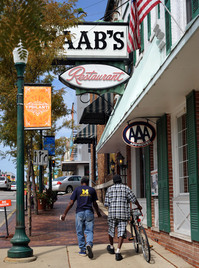 Competing with four other eateries from Florida, Virginia, California and Wyoming, Haab's was selected to be featured on one of QVC's most popular shows.
David from "In the Kitchen with David" will eat a meal at Haab's with Dwight Burdette, the Ypsilanti resident who nominated the restaurant for the competition, sometime next week, co-owner Mike Kabat said.
Viewers of the show were asked to submit a restaurant they believe makes their hometown worthy of being called a "must-see foodie destination."
Haab's was nominated by Burdette who co-owner David Kabat refers to as a 'restaurant regular'.
Restaurant owners were informed of their nomination and spot as a finalist in early July.
"It came up so quick for us," Mike said. "We didn't know what the criteria was or what qualified us as a finalist so when we won we were shocked and definitely excited."
"In the Kitchen with David" announced Haab's as the winner and featured the restaurant's Facebook page in their show Sunday.
"Within three hours after the announcement we had 400 new people on our Facebook page and our phone has been ringing off the hook with people asking when the show is coming," Mike said.
Mike said he thinks the competition will be a positive thing for Haab's.
"I don't know how many viewers QVC has in the geographical area, but there are worse things that could happen to you than winning a contest like this," Mike laughed.
Chelsea Hoedl is an intern reporter for AnnArbor.com. She can be reached at choedl@mlive.com.